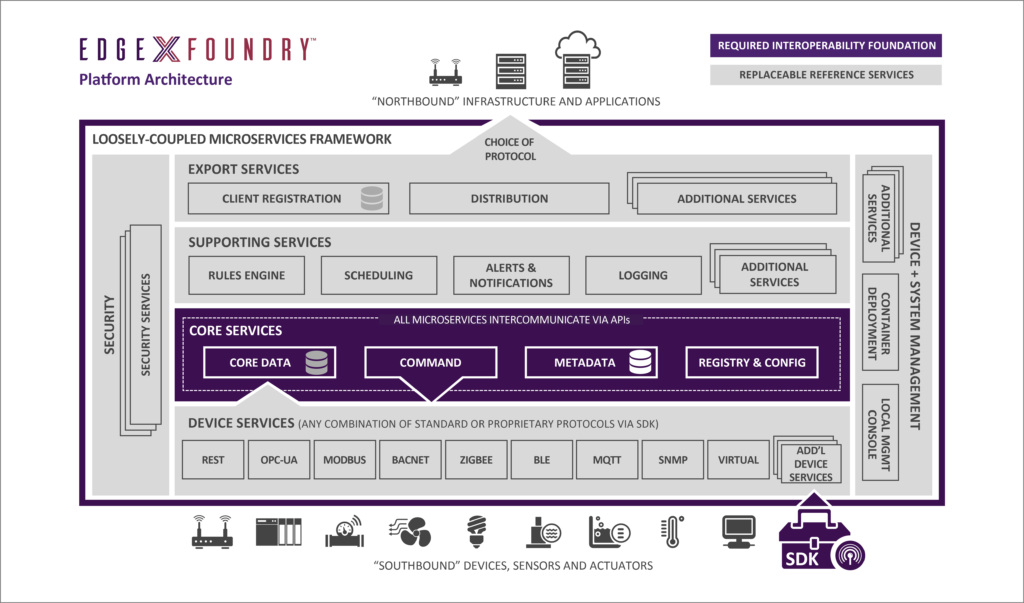 The Linux Foundation is on a mission to simplify and standardize the Industrial Internet of Things edge computing. The organization announced a new open-source project, EdgeX Foundry, designed to build a common open IoT solution framework.
According to the Linux Foundation, while the IoT can help businesses improve efficiency and increase revenue, the complexity of the IoT landscape is hindering adoption and impeding on market growth. EdgeX wants to encourage the IoT community to work together towards interoperable components.
"Success in Internet of Things is dependent on having a healthy ecosystem that can deliver interoperability and drive digital transformation," said Jim Zemlin, executive director of The Linux Foundation. "EdgeX Foundry is aligning market leaders around a common framework, which will drive IoT adoption and enable businesses to focus on developing innovative use cases that impact the bottom line."
Dell, one of the founding members of the project, will be providing the EdgeX Foundry with the company's FUSE source code under the Apache 2.0 license. FUSE includes more than a dozen microservices and more than 125,000 lines of code that provides interoperability between connectivity standards, edge analytics, security, system management add services.
"We think EdgeX Foundry is the key to accelerating the fragmented IoT market and are proud to have been a part of the effort from the beginning," said Jason Shepherd, director of IoT strategy and partnerships at Dell. "We're big believers in openness and choice, and this modular architecture is designed to help anyone easily build edge computing solutions with preferred hardware, software, standards and services while minimizing reinvention. EdgeX Foundry is not a new standard, but a way to unify standards and edge applications."
The main goals of the EdgeX Foundry is to: build and promote EdgeX as the common open platform for IoT; enable and encourage the IoT community to create an ecosystem around interoperable plug-and-play components; certify EdgeX components; provide tools to build EdgeX-based IoT solutions; and collaborate with open-source projects, standards groups, and industry alliances.
"Businesses currently have to invest a lot of time and energy into developing their own edge computing solutions, before they can even deploy IoT solutions to address business challenges," said Philip DesAutels, PhD senior director of IoT at The Linux Foundation. "EdgeX will foster an ecosystem of interoperable components from a variety of vendors, so that resources can be spent on driving business value instead of combining and integrating IoT components."
EdgeX Foundry is launching with 50 founding members including: Ubuntu, Modius, The Object Management Group, VMware, and Cloud of Things.
"Interoperability is paramount for integrating secure and scalable IoT solutions," said Richard Soley, executive director of the Industrial Internet Consortium, and Chairman and CEO of the Object Management Group (OMG). "EdgeX Foundry will unify a wide array of standards and commercial offerings at the IoT edge, enabling faster ROI for industrial organizations. EdgeX is architected to enable tiered data ingestion and processing, aligning well with the various open standards for distributed computing driven by the OMG."