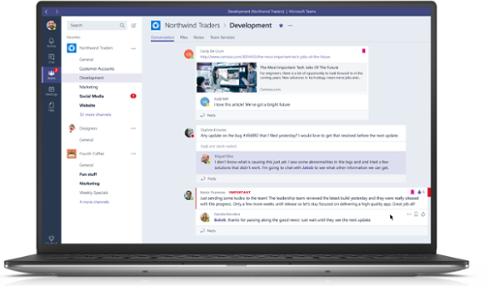 Microsoft is giving developers new tools to improve its chat and messaging service. The company announced it made enhancements to its Microsoft Teams Developer Preview.
Microsoft Teams is the company's chat-based solution designed to take on the popular messaging service Slack. The preview allows developers create new integrations for the solution.
(Related: Microsoft updates its 'customer success service' FastTrack)
"Since we announced the preview of Microsoft Teams in November, we've seen great momentum with users," the Microsoft Office team wrote in a blog post. "It has also been exciting to see developers around the globe start using the Microsoft Teams Developer Preview to build and test new apps and productivity experiences."
The update now allows developers to create bots that can be surfaced in a Teams conversation channel, allowing users to engage with them. "This means that once a user adds a bot to the team, it can be invoked from any channel to respond to an existing thread or create a new thread. This ability for team members to engage with bots in channels gives it maximum exposure and promotes usage," the team wrote.
The tabs feature has also been enhanced to allow users to create and share links to items within the tab. According to Microsoft, this will help users stay connected and on top of tasks.
"As we welcome more developers to the preview, we're listening to feedback and using it to guide our investments," the team wrote.