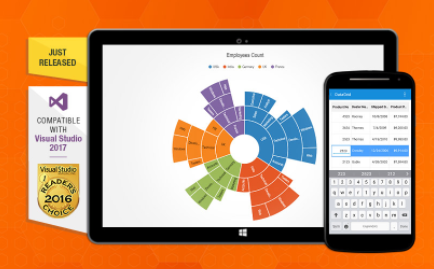 Syncfusion is beefing up its development tools with new features, controls and improvements for developers to take full advantage of the latest technologies. The company announced this year's first release of Essential Studio 2017 Volume 1.
"Increasing developer productivity is at the core of everything we do at Syncfusion and this release is no different," said Daniel Jebaraj, vice president of Syncfusion. "Customers will appreciate the vast trove of feature updates and bug fixes that have been added to this release of Essential Studio."
The release comes with full support for Visual Studio 2017, the latest version of Microsoft's software development environment.
"Microsoft Visual Studio 2017 takes developer productivity to a whole new level," said Jebaraj. "There is nothing like it on the market, especially for mobile development. Syncfusion is excited to announce that Essential Studio 2017 Volume 1 is completely compatible with publicly available versions of Visual Studio 2017."
RELATED CONTENT: Visual Studio 2017 takes on DevOps, containers, productivity
Key features of the release include a new sunburst chart control to visualize hierarchical data in a circular chart for JavaScript, ASP.NET, MVC and ASP.NET Core; built-in support for editing in Xamarin's data grid control; file format library compliance with the .NET standard; and major performance enhancements to the WPF data grid.
Other features include: the ability to render UPC-A barcodes in JavaScript, UWP, and WP; a new box and whiskers series chart for JavaScript, WPF, UWP and all ASP.NET platforms; and bookmark navigation for PDF documents.
The full release notes are available here.