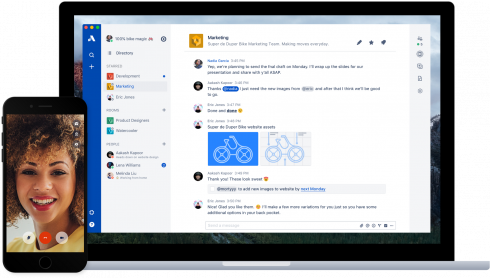 Six months after launching Stride into early access, Atlassian has announced the team communication platform is now generally available. Stride is designed to empower teams to communicate effectively, stay connected, and focus on what matters most.
According to the company, Stride is the first product built on the new Atlassian API platform, and is intended to replace HipChat.
"Workplace communication has gotten faster. And yet, it's no easier. Keeping up means staying constantly connected in never-ending chat discussions, email chains, and comment threads. You chase your work across dozens of different tools as notifications, alerts and pings pour in. You make decisions, then realize the right people didn't weigh in. You meet and meet again. You share and learn but have precious little time to capture — let alone act on — the outcomes," the Stride team wrote in an announcement.
Based on feedback from Stride's early adopters, the team has added more than 50 new features and improvements, including improved search functionality, the ability to organize chat lists, and enhancements to face to face meetings with teammates. In order to manage workflow and increase productivity, Atlassian is making over 20 new apps available to Stride such as Trello, Google Drive, and Dropbox.
Stride also provides a way to maximize collaboration and limit distraction with Focus Mode. Focus Mode allows users to mute all notifications and incoming messages and lets everyone know you are too busy to respond.
For current HipChat Cloud users, Atlassian will be upgrading users to Stride as soon as possible. To learn more, read here.