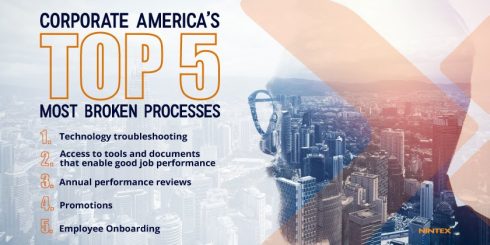 A third of employees are currently looking for new jobs and over 86 percent claim that the broken IT processes are the driving factor in their decision to leave their position, according to a new study funded by workflow solution provider Nintex.
The Definitive Guide to America's Most Broken Process was published by Nintex with the survey conducted by Lucid Research in July of 2017 with more than 1,000 full-time employees at U.S. enterprises. The roles of the employees included human resources, sales, finance, and IT.
"It was interesting to find that most processes employees consider 'broken' are everyday processes like onboarding paperwork and submitting an IT request and standard dbs checks; they're not highly strategic things," said Ryan Duguid, senior VP of technology strategy at Nintex. "It's all the everyday little things that are broken that make employees mad, slow them down, and prevent them from reaching their full potential and so on. The most broken processes are right under our noses."
Based on survey respondents, the top five broken corporate processes include technology troubleshooting, access to tools and documents that enable job performance, annual performance reviews, promotions, and employee onboarding.
"Broken processes within American enterprises like trouble contacting IT and inconsistent performance reviews are taking a serious toll on employee morale and increasingly becoming a top concern for C-suite leaders," said John Burton, CEO of Nintex. "Given the Nintex study findings, it's clear that automating the long tail of business processes can no longer be postponed. By automating processes, business leaders can ensure a strong foundation for positively improving employee retention and productivity."
In addition, the study showed that 62 percent of employees observe broken IT processes within their organization and only 24 percent of the employees report the broken processes to in-house IT teams. However, Duguid does not think the IT department is to blame for the broken processes in the organization.
"Historically employees blame IT because it is the IT department that takes care of solutions to common business problems," said Duguid. "If IT hasn't solved the broken process, IT pros are seen as bad; they don't care about me and don't think my request is important, etc. However, the reality is that the world has changed. Automation platforms now empower all employees to quickly and easily modernize business processes — so, it might be time to stop the IT blame game. We need to increase awareness of what is possible and shake off the learned helplessness that many employees feel."