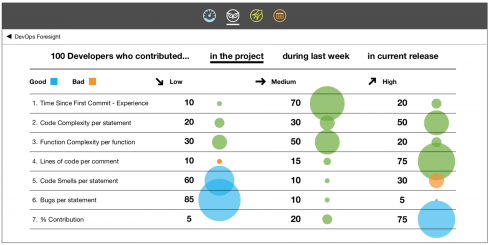 Electric Cloud announced a new deep learning solution for the DevOps pipeline at the DevOps Enterprise Summit (DOES) in London this week. The ElectricFlow DevOps Foresight is a predictive analytics solution designed to detect patterns in release pipelines, predict the likelihood of a software release success, and provide recommendations.
According to Electric Cloud, DevOps Foresight will provide releases with a score similar to a credit score based on the developer, code and environment profiles in order to provide stakeholders with a visual way to interpret the success of a build or pipeline.
"Improving the pipeline is often based on trial and error or best guesses. What we aim to do with ElectricFlow DevOps Foresight is provide data-driven insights much earlier in the process by looking at past successes, build complexity, author profiles and more, and then show where the pipeline can be improved based on facts," said Carmine Napolitano, CEO of Electric Cloud.
The new solution applies machine learning algorithms to massive amounts of data to predict the outcomes of release before production. In addition, it can illustrate where improvements can be made based on developer influence, code complexity influence and more, according to the company.
Other features include risk scores by release, and a developer contribution heat map.
XebiaLabs announces Enterprise DevOps for the Cloud
XebiaLabs is releasing a new DevOps framework to help organizations move their apps and services to the cloud. The new framework encompasses enterprise DevOps practices and common management functionality for cloud-based app transformations.
"Across all industries, enterprises are 'lifting and shifting' their applications to cloud-based resources," said Robert Stroud, chief product officer for XebiaLabs. "Most of them start with a few one-off projects here and there, and they see initial, but limited, success. As they start to shift at a larger scale, they need to align their cloud initiatives with their DevOps processes, or both initiatives are likely to flounder. The most effective way to deliver thousands of applications to the cloud in a repeatable, scalable, and secure way is to fully include cloud deployments in your end-to-end DevOps process and utilize a comprehensive, cloud-native DevOps platform, such as XebiaLabs."
Features of the platform include:
Automation, orchestration and management
Automatic provisioning and deprovisioning
Hybrid deployments
Dependency management
Detailed visibility
Compliance, security, reporting, governance and audit trail capture
The DevOps Periodic Table
In addition, XebiaLabs announced the Periodic Table of DevOps Tools v.3. The updated table includes 52 new DevOps tools, new design, and additional categories such as analytics and AIOps.
"The Periodic Table of DevOps tools has become a popular fixture in the DevOps world. Hundreds of thousands of people have benefited from this easy, fun way to keep up with the latest tools and to understand where those tools fit in the software delivery landscape," said Gottfried Sehringer, chief marketing officer at XebiaLabs. "We're excited to share version 3 with the DevOps community at this year's DevOps Enterprise Summit, and want to extend our thanks to everyone who took time to visit our website, provide feedback, and vote for their favorite tools."
CollabNet VersionOne announces Enterprise Value Stream Management
CollabNet VersionOne announced at the conference it would be combining its agile and DevOps continuous delivery platforms to provide a Enterprise Value Stream Management (EVSM) solution. The EVSM is designed to visualize, measure and optimize delivery pipelines and value streams.
"Business leaders need complete visibility to spot bottlenecks or waste in the product development lifecycle or delivery pipeline to optimize workflows, priorities, teams and processes to better meet business objectives," said Flint Brenton, CEO at CollabNet VersionOne. "DevOps continues to evolve from a movement based on empathy and teamwork, to business value throughput and ensuring customer satisfaction and faster time-to-market."
Features include performance management for prioritizing, planning and tracking value; ability to orchestrate planning and delivery; ability to break down silos; and risk management.