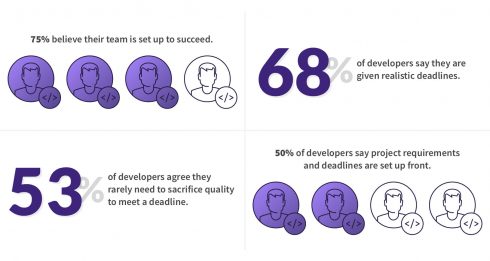 DevOps and open source aren't slowing down anytime soon, a newly released report revealed. GitLab released its 2018 Global Developer Survey on developers' perception of their workplace, workflow, and tooling within IT organizations.
The demand for DevOps continues to grow, even though there are still challenges created by outdated tools and company resistance to change. According to the report, only 23 percent identify DevOps as their development methodology. However, IT management has named DevOps as one of the top three areas of investment in 2018, indicating that the number of DevOps adopters is sure to grow this year.
GitLab found that most developers are in agreement that DevOps workflows save time during the development process. Teams that have adopted DevOps have confirmed that there is an increase in productivity, allowing them to spend at least 50 percent of their time on new work.
Forty-five percent of DevOps practitioners deploy on demand, while 71 percent of DevOps practitioners stated that automating the software development life cycle was a high priority. This is compared to 39 percent and 60 percent of Agile practitioners, respectively.
The study also found that remote teams tended to have higher overall satisfaction and productivity compared to in-office teams. Forty-one percent of those remote teams agreed that they have a well-established DevOps culture, while only 34 percent of in-office teams agreed with that sentiment.
According to the report, an emphasis on open source tools is a unifying factor for all segments.
Ninety-two percent of survey respondents agreed that open source tools are important to software innovation. Seventy-five percent of respondents reported that using open source tools was important. Eighty-four percent claimed that they preferred using open source tools over closed or proprietary tools.
Almost half of respondents (45%) claimed that most of their tools are open source now, while 15 percent said that all of their tools are open source. The majority of respondents (60%) agreed that open source tools are "more secure, can improve overall software quality, and streamline the development process."