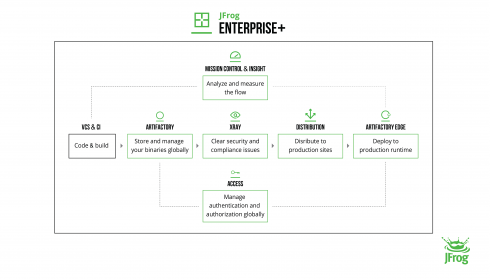 JFrog has announced the release of Enterprise+, which is a universal software binary platform. The announcement was made at the company's swampUP user conference in Napa Valley this week.
"Users today have zero tolerance for broken, cumbersome, and slow software updates. We all strive to achieve life without outages," said Shlomi Ben Haim, CEO and co-founder of JFrog. "Most of the code in today's world is already written, thus the real DevOps challenge is to enable a continuous artifacts flow."
According to the company, Enterprise+ is optimized to provide an end-to-end pipeline for managing binary artifacts from development to production deployment. It manages lifecycles for both binaries of cloud-native apps and traditional IT apps. It can also be used for mobile development and IoT devices.
JFrog Enterprise+ aims to give users will have full control over the storage, promotion, security, and distribution of binary releases to remote endpoints, the company explained.
In addition, it includes a unified dashboard that will give users access to analytics throughout the software development lifecycle. According to JFrog, it also includes integrated authentication and authorization management to ensure security across different regions.
Lastly, the company explained Enterprise+ will include other JFrog solutions such as JFrog Artifactory Binary Repository Manager, JFrog Xray, JFrog Distribution, JFrog Artifactory Edge, JFrog Mission Control, JFrog Insight, and JFrog Access Federation.
"JFrog is in the business of fast, automated, and secure software releases, our priority is to aid the next generation of DevOps by furthering Continuous Updates and introducing the world to the vision of Liquid Software. With JFrog's new platform, organizations can now enjoy the power of frictionless updates. Users are able to update the right software component, at the right time, from the right source with zero downtime," said Haim.