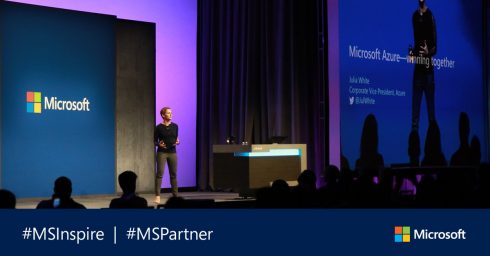 Microsoft announced new partner opportunities for reaching, connecting and driving digital transformation at its Microsoft Inspire event in Las Vegas this week.
The company announced an updated partner website and improvements to its Microsoft Partner Network program. The improvements include new approach to showcasing specialized expertise with advanced specializations, Microsoft Azure Expert MSP program, flexible benefits packages, new e-books and new practice development playbooks.
"For me, our annual partner conference is the best way to celebrate a year of collaboration, learning, and succeeding together. It's also an opportunity to look ahead to how we can achieve more together by delivering innovative solutions that drive customer success with digital transformation," Gavriella Schuster, corporate vice president of One Commercial Partner program at Microsoft, wrote in a post.
In addition, Schuster announced that in 2019 the company is going to start putting partner solutions in the product catalog for the first time ever. "That means our direct salesforce and reseller partners will be able to sell 1st and 3rd party solutions individually or combined," she wrote.
Microsoft also announced a five-year agreement with Walmart to accelerate digital innovation in retail. "Walmart's commitment to technology is centered around creating incredibly convenient ways for customers to shop and empowering associates to do their best work," said Doug McMillon, Walmart CEO. "Walmart is a people led, tech empowered company, and we're excited about what this technology partnership will bring for our customers and associates. Whether it's combined with our agile cloud platform or leveraging machine learning and artificial intelligence to work smarter, we believe Microsoft will be a strong partner in driving our ability to innovate even further and faster."
As part of the partnership, Walmart will leverage Microsoft's public cloud for compute capacity, an elastic environment, access to new toolsets and access to a cloud native environment. The two companies will also collaborate on the assessment, development and support of moving hundreds of existing apps to cloud native.
Other announcements from the conference included:
TimeXtender announces updates to its Discovery Hub
TimeXtender's Discovery Hub is getting new capabilities to align with Microsoft Azure as well as support Azure Data Lake, Azure SQL Database, and Azure Analysis Services. Discovery Hub is the company's next generation data architecture solution for automating the implementation and operation of data infrastructure.
"Discovery Hub helps to address their growing customer demand for advanced analytics in a governed data environment. TimeXtender on Azure enables organizations to optimize their data without draining time or resources," stated Bharat Sandhu, director of product marketing for Big Data and analytics at Microsoft.
Nintex releases new research on digital transformation
According to new research from Nintex, business decisions are based on improving the customer experience first and foremost over employee experience when it comes to digital transformation. Nintex believes this shows the need to educate enterprises on the role of employee experience within a digital transformation.
The findings are based off of more than 450 decision markets and 650 line of business employees from US companies. The research also found there is a disconnect between decision makers and how technology investments and digital transformation efforts will impact employees.
"Focusing on customer success is critical for all enterprises, but we must not neglect the success of our employees in the process in order to fully realize the benefits of enterprise-wide digital transformation," said Nintex CEO Eric Johnson. "At Nintex, we believe that our channel partners are well-suited to advocate for both the customer and the employee as they provide robust technology solutions and services that help organizations around the world realize their strategic business goals."
More information is available here.
Nintex also announced new improvements to its workflow automation solution including component workflows for Nintex for Office 365, new form variables, and form version control. "Microsoft and Nintex have been strong partners for more than a decade," said Eric Johnson, CEO of Nintex. "Together we're committed to driving our partnership forward to benefit customers who turn to our integrated technologies to accelerate business outcomes."
CloudJumper's Workspace as a Service platform
CloudJumper unveiled its Cloud Workspace for Azure at the conference. The platform integrates Cloud Workspace Management Suite with Microsoft's Remote Desktop modern infrastructure. According to the company, this will give users increased visibility into Azure, Office 365 and Cloud Workspace.
"The Cloud Workspace Management Suite for Azure seamlessly and automatically deploys IT application workloads, eliminating the need to host components outside of Azure's Compute environment. To simplify system access, the solution allows users to pass their Active Directory Domain Services credentials throughout the platform, using single sign-on to access applications based on user-defined policies for a better overall experience. The user-friendly updates for desktop services in Azure will manage every layer of the administrator's technology stack, as well as server resources with dynamic resource adjustment as requirements change," the company wrote in its announcement.
TeamViewer extends Microsoft Intune integration
TeamViewer announced it will now include integration with remote iOS device screen sharing for better remote support. The company previously provided integration with Intune for remote assistance on all PCs and Android devices. Microsoft Intune is a security management platform for managing iOS, Android, Windows and macOS devices.
With the newly added integration, IT admins can view iOS and macOS devices remotely, in real time.
"TeamViewer will continue to work closely with Microsoft to keep innovating our integration with Intune," said Alfredo Patron, VP of business development at TeamViewer. "We support more devices and operating systems than any other remote assistance solution on the market and we are very excited to bring this new capability to their customers."