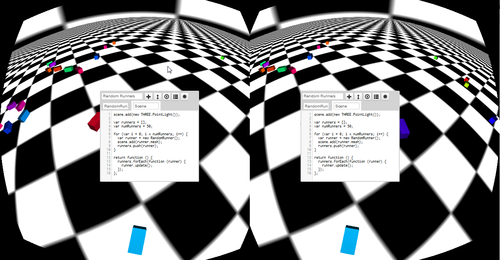 RiftSketch, an HTML5 live coding app for the Oculus Rift
Live coding is growing in popularity across the programming and even the music world, and now one developer has finally brought the improvisational programming trend to arguably the most exciting technological forefront: virtual reality.
Developer Brian Peiris has created RiftSketch, an open-source application providing a live coding HTML5 environment for the Oculus Rift to change the world around the user in real-time. The app leverages the Three.js 3D JavaScript library, allowing Rift users to code a "sketch" in JavaScript. RiftSketch works in tandem with the Oculus Rift Development Kit 2. Peiris gives a demo of RiftSketch in the video below:
(Related: Dancing to coded music programmed live onstage at Algoraves) 
More information on RiftSketch is available on GitHub
Splunk releases Splunk Enterprise 6.2
Enterprise software provider Splunk has announced the release of Splunk Enterprise 6.2, the latest version of its real-time operational data intelligence platform.
Splunk Enterprise 6.2 adds a new Intuitive Wizard  machine data onboarding and preparation interface for downstream analysis. The release also implements an Instant Pivot feature for analysis and dashboard creation without knowledge of the Splunk Search processing language, prebuilt panels for faster dashboard creation and a new distributed management console for central performance monitoring of distributed Splunk Enterprise deployments.
Splunk Enterprise 6.2 will be generally available as software for on premises, cloud or hybrid deployments, and as a cloud service through Splunk Cloud on Tuesday, October 28. More information can be found in the Splunk press release.