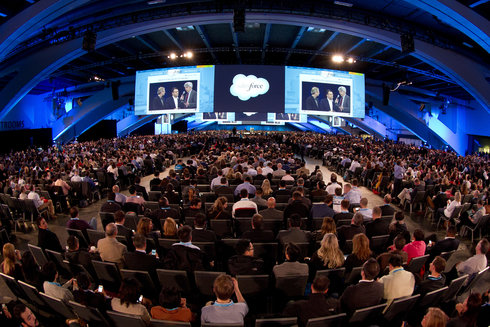 Salesforce.com took over San Francisco this week when its annual Dreamforce conference brought more than 170,000 attendees to the city. That number made it the largest software conference in the city's history, dwarfing Oracle OpenWorld.
Marc Benioff, CEO of Salesforce, took the stage during yesterday's keynote to discuss the company's future. "Next year…Salesforce will be the fourth-largest software company in the world," he said, predicting US$6.62 billion of revenue for fiscal year 2016.
(Related: Previously in Salesforce news: Salesforce1, Analytics Cloud)
Benioff discussed a great deal of Salesforce's nonprofit work, highlighting the work of Athena, the Breast Health Network. He discussed his own mother's struggles with cancer, as well as the University of California, San Francisco's work to modernize clinical trials with Salesforce's help.
"We're talking about major advances in technology, things going on at rates that were never before possible," said Benioff. "Trillions of customer interactions, things happening in this Internet of Things across customer devices.
"Everything is connected on the Internet of Things. Everything I'm doing is now on the network. That's an incredible thing." He then coined his own phrase: "The Internet of Customers."
"Behind every one of these things is a customer," said Benioff. "But there's a problem: Even though we're creating all this data, there's an unbelievable gap between our customers and our companies. We need to get ready for a new customer success. That's why we're building a new customer success platform at Salesforce.
"Salesforce doesn't make an operating system; we make a platform that transcends operating systems. Everything you do can be used and reused. These are shifts we've been talking about in our industry for years. That's why last year we introduced our platform, Lightning."
Parker Harris, cofounder of Salesforce, took the stage to talk about the advancements of Lightning. "We've been working on this for a while; it's really the biggest thing we've done since we started the company. First and foremost, Lightning is a platform. It's easy to use, and it's an ecosystem," he said.
Harris then introduced two new capabilities for the platform: Lightning Exchange and Lightning Experience. He compared the old Salesforce interface to the Lightning platform, which enables drag-and-drop UI design, and through the inclusion of Lightning Exchange, which is a marketplace to add functionality to third-party apps.
Lightning can be installed to existing Salesforce accounts with the click of a button. Harris said that the Lightning platform is a cleaner interface with faster access to things like analytics and real-time stats.
Prior to Benioff's keynote, a number of CEOs whose companies use Salesforce technologies took the stage.
George Zimmer, former CEO of Men's Wearhouse, came on stage to announce the launch of Generation Tux, his new online tux rental company. He said that Salesforce allowed his new startup to quickly get to market.
Stephen Kelly, CEO of Sage, said that Salesforce's technologies have enabled it to innovate faster as an employee payment-management business. "Fifty-four percent of companies in the U.K. pay their employees using Sage. What we've done with Salesforce is radically and revolutionary. We're saying it's the end of ERP: expense, regret and pain. It's created a graveyard of our team projects and careers. There's got to be a better way.
"We've launched Sage live at the speed of light; it's the first front-to-back office solution. It's real-time accounting, real-time information for entrepreneurs. The incredible thing is instead of deploying software in months and years, it goes live in days and weeks."
The conference was packed with all manner of talks on all manner of topics. One track focused on the future, even featuring science fiction author David Brin to comment on the potential of business software.
Dreamforce continues through Friday in San Francisco.