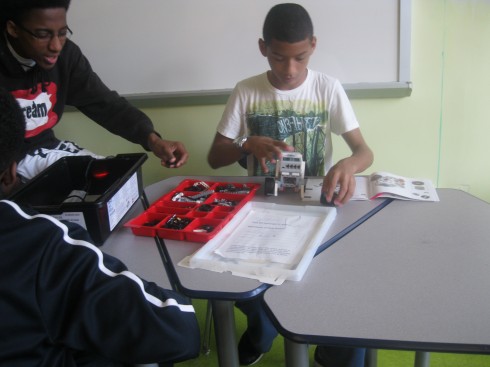 In 10 years, Michael Torres wants to be the CEO of a gaming company. He sees himself founding the next EA or Ubisoft.
"I'm interested in creating software and developing games," Torres said. "I've always wanted to do that since I was a little kid. I was always playing Lego Star Wars when I was little and I really enjoyed it, so I thought, why not try to get a job doing this?"
But that will have to wait for now. At the moment, Torres is a ninth grader at the Academy for Software Engineering in Manhattan, and his favorite class is a tie between integrated algebra and gym. He's one of 250 students enrolled at the AFSE, a new high school dedicated to the design and development of software. The academy is now in its second year, offering both a ninth- and tenth-grade class, each totaling about 125 students.
Inside the classroom
The AFSE (and its sister school BASE, the Bronx Academy for Software Engineering) are the first steps in New York's fast-developing pipeline fostering the next generation of software and technology professionals who, city officials hope, will power economic growth in the city behind a new wave of technological innovation.
Michael Torres with classmate Erlyn Ysit
Over a planned four years at the AFSE, students will move through a curriculum of computer science courses combined with typical classes like English, history and math. Even standard classes are integrated with CS-based tools and skills, though. For an assignment on "To Kill a Mockingbird" or the War of 1812, students might create a Web page or Scratch project (using a tile-based visual programming toolkit) instead of handing in a paper or a PowerPoint presentation.
The AFSE has unscreened enrollment, meaning admission decisions aren't based on academic performance. All students need to do is attend an open house, apply, and hope their lottery number is picked.
The school's two computer science teachers come from eclectic backgrounds: one a former Amazon and Microsoft software engineer, and the other a former classical guitar maker. And the AFSE is actively recruiting more specialized teachers as the school expands. Classes right now range from robotics and Web design to Advanced Placement computer science, as well as programming classes delving into languages like Java, Python and Ruby.
(More on educating the next generation of developers: Doubling the talent pool)
Outside the classroom, the AFSE immerses students even more deeply in the world of software engineering. Field trips take students inside the New York offices of companies like Facebook and Google, and the school matches each student up with a professional mentor on top of summer internships. It's a natural progression from there to college, and in the New York area alone the school has close ties to Columbia, NYU and Pace University.
The school's philosophy—more than simply giving kids a leg up on the latest software knowledge or industry trends—is based on equipping students with the skills, concepts and experience to flourish no matter what technological change the future brings.
"We're taking an entire school and acculturating them in software engineering and computer science," said Leigh Ann DeLyser, the AFSE's computer science consultant. She works with computer science teachers to develop curricula, and with non-CS teachers to integrate computer science into their classes, along with cultivating professional connections and partnerships with the school. "The students who walk our halls are the next generation of creators. And whether that creation happens in software engineering or in some other field, the skills they learn here will just help them fuel that creative spirit as they move forward," she said.
Building out an idea
The AFSE occupies the fourth floor and half of the fifth floor of the Washington Irving High School, right by Union Square. The school is scheduled for closure by 2015 due to low graduation rates, but in its place the AFSE and four other academies are gradually expanding within the building. They've made made this modest chunk of the aging building their own, hanging inspirational slogans, plaques with tech billionaires' bios, and the histories of programming languages on the walls. Not to mention installing two brand new computer labs and branding each room with a different software company logo.