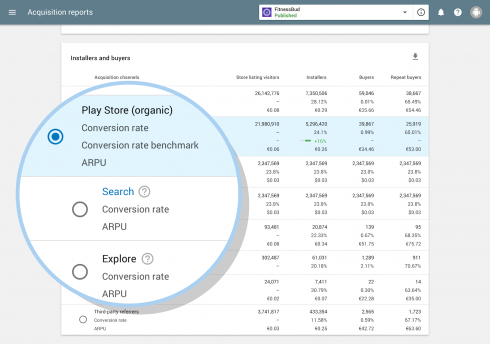 Google is updating its Google Play Console to give developers a deeper understanding into their applications. The console will now provide "organic acquisition insights" on how users discover applications.
"One of the things every developer wants to know is how people discover their app or game," Tom Grinsted, product manager for Google Play, wrote in a post. "User acquisition reports in the Google Play Console are a great way to understand this. For many apps and games, a stand-out source is organic traffic — it's usually the largest or second largest source of store listing visits and installs."
Organic traffic refers to users coming to a store listing through exploring or searching Google Play. Discovery can happen from a seasonal collection, featured app or searching for a specific term, Grinsted explained. Previously, the company bundled all this data together into user behavior. With the latest update to the Play console, Google is breaking down the data into new and exclusive acquisition insights.
"These enable you to understand what people in the Play Store do to discover your app or game," Grinsted wrote. "They reveal how many people discover your app through exploring the store, and how many search to find your app, and even the search terms they use! App Store Optimization (ASO) is vital to driving your organic traffic and this update enables you to do this with more data and better understanding."
The new data breakdown will provide information on how many users come to a store listing based on search and exploration and enables developers to click-through the specific search terms people are using to find their store listing.
In addition, the new data will include information on when people saw previews of developers' Play Store listings instead of just when they visited the full page. "This new information gives you more visibility into where people see your assets," Grinsted wrote. "It helps you decide how to optimize these assets, for instance by ensuring that your screenshots are impactful.