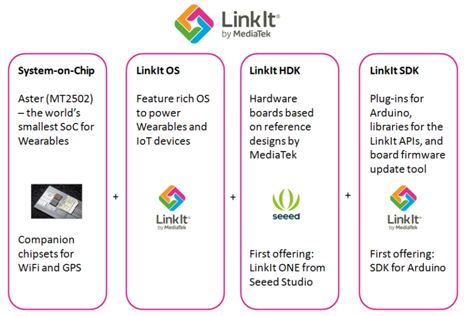 The latest trend of wearables and the Internet of Things (IoT) has organizations rushing to be a part of the movement, and MediaTek is the most recent company to jump on the bandwagon. The company has unveiled MediaTek Labs, a program that lets developers of any background create wearable and IOT devices.
"MediaTek Labs are focused on the 'long tail' of opportunities, which reflects a diverse and dynamic set of opportunities coming from large communities of innovative and disruptive companies that can originate anywhere in the world," said Marc Naddell, vice president of MediaTek.
"The wearable and IoT opportunities are broadly acknowledged to share these characteristics of being disruptive, and also reflect very fragmented use cases. That being said, using an ecosystem approach that focuses on developers, makers and partners enables our company to better serve these opportunities with more openness and scale."
(Related: The Internet of Things is hitting the peak of its hype cycle)
To get developers started, the program features the LinkIt platform, an operating system for wearables and IoT devices. The platform, which is based on the MediaTek Aster chipset, features a software development kit for Arduino and the LinkIt ONE development board (an open-source development board that matches features of Arduino boards). The company plans to add a LinkIt SDK with Eclipse support by the end of the year. In addition, MediaTek is offering a LinkIt developer's guide to introduce the LinkIt SDK and provide step-by-step instructions.
"This program is the vital link for developers targeting the global IoT and wearables market," Naddell said. "The program will also support matchmaking for developers trying to find services and partners through MediaTek Labs networks as well as finding paths to market."
MediaTek Labs and the LinkIt platform also target hardware makers. The platform comes with a hardware development kit for prototyping devices, and features GSM, GPRS, Bluetooth, WiFi, and the ability to migrate existing Arduino board code.
"Wearables are just the beginning. MediaTek Aster and the LinkIt Development Platform address only part of the wider IoT market," Naddell said. "Here at MediaTek Labs, we have a goal of supplying technology and developer offerings across the entire market."
More information is available here.