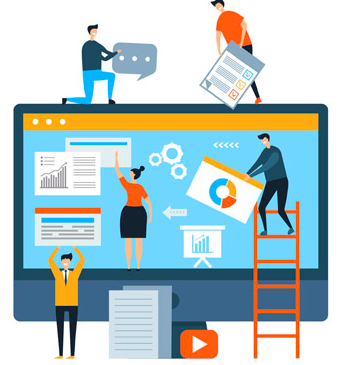 In the current situation IT teams find themselves in, they are being forced to do more with even fewer resources. You've likely heard (or possibly been affected by) the swath of layoffs that have plagued the tech industry over the past several months. IT teams are expected to continue outputting great work, except now their budgets have been cut, they have less staff, and are increasingly stretched thin. 
Low code is one of the solutions that can be utilized to combat some of the challenges that may be arising as a result of the current economic climate. 
According to Gartner, the low-code market will grow 20%. By comparison, Gartner also predicted a 5% increase in the IT sector as a whole in 2023.  
Gartner defines the low-code market as being made up of a number of different technologies: application platforms, robotic process automation, integration platform as a service, and citizen automation and development platforms, to name a few. 
The largest market segment within low code is application platforms, but citizen automation and development platforms are the fastest growing segment; they are expected to grow by 30% in 2023. Low-code application platforms are those that minimize the use of coding needed to create an application, while citizen development platforms are used to enable people who are not formal developers, such as an accountant or HR representatives, to create applications, according to Gartner. 
By 2026, Gartner predicts that citizen developers will make up at least 80% of the user base for low-code platforms (in 2021 it was 60%).
"The high cost of tech talent and a growing hybrid or borderless workforce will contribute to low-code technology adoption," said Jason Wong, distinguished VP analyst at Gartner. "Empowered by the intuitive, flexible and increasingly powerful features of low-code development tools, business technologists and citizen technologist personas are developing lightweight solutions to meet business unit needs for enhanced productivity, efficiency and agility — often as fusion teams."
John Bratincevic, principal analyst at Forrester, has seen that a lot more companies are investing in citizen development, and he expects this trend will continue. At the end of last year, he published a case study on how the oil and gas company Shell Plc has scaled its citizen development program to over 4,000 employees.
Making DIY a priority
One of the keys to their success, according to the report, was that they have a centralized Center of Expertise and hundreds of distributed DIY coaches.  Cultivating small communities of citizen developers throughout the organization was important to their success. 
In the next phase of their citizen developer journey, Shell plans to double the number of citizen developers and make DIY a priority in IT budgets. 
"It seems like a lot of companies have gotten much more serious about citizen development, as I described. So I expect to see more of those programs actually hitting scale," said Bratincevic. 
He recalled a recent conversation with a financial company where they had 10-15 accountants using low code to create applications. He asked why they didn't just hire a consultant to come in and build something for them and the response was that they "didn't have $5 million lying around for so-and-so to come in and do this for me."

"To her, it made a lot more sense to have her subject-matter experts to build these very important sophisticated applications, rather than pay consultants a bunch of money to do it on whatever product coding or logo," said Bratincevic.
When low code first started gaining popularity, it was common for citizen developers to use it to create a simple app to automate part of their workflow. 
Now, it is being used to create a wider range of application types. It's not uncommon to see it used for customer-facing applications, Bratincevic said. 
"They're increasingly a general purpose replacement for coding for a range of application use cases," he said.
People will expect AI in their low-code platforms
The emergence of ChatGPT showed people what's truly possible with AI. Bratincevic expects that users will now demand AI capabilities in their low-code platforms. 
"You and I actually have AI features in our normal tools that we don't even think about," he said. "So for example, when you're using PowerPoint, and it suggests a layout, that's AI."
According to Bratincevic, examples of companies who are vocal about having these capabilities in their low-code offerings are OutSystems and Microsoft. 
"I think it's like anything else, it's just going to make people more effective and faster, and help them learn things more quickly, right? Just like developers go out and grab code off the internet. Now they'll grab code from some kind of feature the platform has, and I think it'll be practical and useful," said Bratincevic. 
Market forecast
Gartner predicts a 20% increase in low-code spending in 2023
They also predict that citizen developers will make up at least 80% of the user base for low-code platforms by 2026
Forrester predicts more low-code platforms to incorporate AI features to make development easier