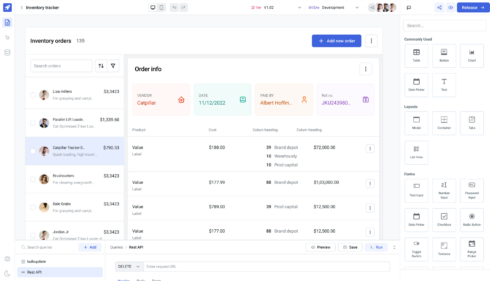 ToolJet is an open-source, low-code application development platform for building and deploying business applications. 
Users can use it to build complicated front ends without any experience in React, CSS, or event HTML. They can also drag and drop over 35 built-in UI components for more complicated frontends. 
With ToolJet, developers can also verify the current properties of components, queries, and global states of applications. In addition, every app can have multiple pages linked with one another.
"We were looking for a low-code platform to migrate our team processes previously based on worksheets. By using Tooljet, we have been able to shorten significantly the design and development time of our tools and enrich their functionality. Moreover, the Tooljet team has always been reactive and keen to address our requests on the fly," Francois Xavier Lecarpentier, head of research production management at Orange said. 
The solution is enterprise-ready with audit logging, permission and access controls, air-gapped deployment, priority support, and the ability to integrate with Okta, AzureAD, Google
or OIDC for a seamless authentication.
The company behind ToolJet (also named ToolJet) recently raised $4.6 million in a Pre-Series A funding round.