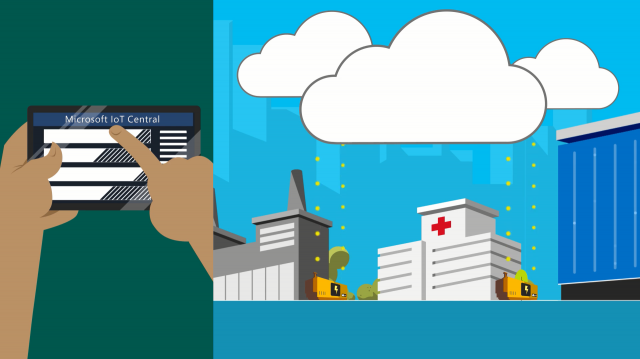 Microsoft is expanding its Internet of Things offerings with a new SaaS solution. Microsoft IoT Central is designed to remove IoT complexity, and help users build solutions without cloud solution expertise.
"The Internet of Things (IoT) is quickly becoming a critical aspect of doing business. In the same way that web, mobile and cloud technologies have powered digital transformation, IoT is the next big catalyst," Sam George, partner director for Azure IoT at Microsoft, wrote in a post. "Yet while IoT brings a new set of benefits for companies that want to keep an edge on their competition, it brings challenges too — IoT solutions can still be complex, and a shortage of skills makes it difficult for everyone to take advantage of this new innovation."
The company plans on rolling out the solution publicly over the next couple of months. Other IoT announcements include: Microsoft Azure IoT Suite Connected Factory, Microsoft Azure Time Series Insights, Microsoft Azure Stream Analytics on edge devices, and Microsoft Azure IoT Hub Device Provisioning service.
HPE ArcSight Investigate
HPE announced the general availability of ArcSight Investigate, a solution that supports companies' security operations model.
The tool is designed to strengthen enterprise protection and the solution gives security analysts and hunt teams analytics capabilities, along with dashboards, and direct integration with Hadoop.
Investigate also integrates with the ArcSight portfolio, including HPE Security ArcSight Enterprise Security Manager and HPE Security Data Platform.
Mirantis Cloud Platform 1.0
Mirantis, a managed open cloud company, announced a new distribution of OpenStack and Kubernetes. The Mirantis Cloud Platform 1.0 is a distribution of OpenStack and Kubernetes, and can orchestrate wVMs, containers and bare metal. The release includes open cloud software, DriveTrain for DevOps style lifecycle management, and StackLight for strict compliance.
"Mirantis Cloud Platform departs from the traditional installer-centric architecture and towards an operations-centric architecture, continuously delivered by either Mirantis or the customers' DevOps team with zero downtime. Updates no longer happen once every 6-12 months, but are introduced in minor increments on a weekly basis. In the next five to ten years, all vendors in the space will either find a way to adapt to this pattern or they will disappear," said Boris Renski, co-founder and CMO of Mirantis.
Atom to speed up startup time
Atom is looking to improve its hacking text editor's startup time. Atom is a text editor designed to customize anything without touching a config file. According to the Atom team, they have been able to speed up Atom by 50% with a number of new improvements.
"For a long time, we've been wanting to have more control over Atom's startup code. In November of last year, as part of this effort, we created an in-depth issue that carefully described where time was spent when opening an Atom window. We realized that many of the operations happening during startup were redundant and that we could use the information we knew at build-time to minimize their cost," the company writes in a post.
Improvements include preloading bundled packages, optimizing stylesheet loading, constructing the atom global, improving require time, and V8 snapshots.
The team plans to explore an Electron's multi-process architecture approach in the future to reduce startup time even further.  
Software AG ARIS 10 released
Software AG is providing new visualization tools and modeling for General Data Protection Regulation and Internet of Things. The company announced ARIS 10, which comes with the first release of ARIS Aware. ARIS Aware provides visual analytics for organizations to make proper decisions.
In addition, ARIS 10 features process performance and mining, ARIS Connect updates, ARIS for SAP Solutions improvements, and enhanced reporting and usability features for Governance, Risk and Compliance management.
"With ARIS Aware we are addressing business stakeholders at every level. It is aimed at everybody who needs to gain clear insights – even into the most complex and dynamic business landscapes. The seamless integration within ARIS Connect, our process collaboration platform, enables our customers to get the best insight to build innovative business processes and manage their digital future," said Wolfram Jost, CTO at Software AG.