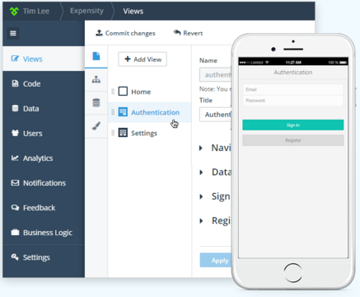 Progress aims to cut the time it takes developers to create enterprise mobile user experiences. The company recently announced Telerik Platform 2.0, its mobile app development platform for Android, iOS and Windows Phone apps. The latest release features a major overhaul to the platform's look, feel and UX.
According to Brandon Satrom, general manager for developer platforms and tools at Progress, the update provides more than just a new design; it provides a unified UX focused on helping developers simplify their workflow by making it easier to leverage critical services.
"By creating a new unified experience, developers now have one-click access to all of their critical platform tools and services," said Satrom. "Now, rather than switching from code to data and analytics and back and [disrupting] their efforts, developers can smoothly navigate between critical services without missing a beat, making them more productive with mobility than ever before."
(Related: Progress announces Rollbase 4.0)
In addition, the new unified and app-centric interface provides the ability to integrate cloud services, and a single app ID that works across all services and SDKs integrated with the app.
The release also aims to help enterprises connect their mobile apps to existing legacy data. Developers can leverage data in MySQL, Oracle, PostgreSQL, Salesforce and SQL Server using a series of connectors powered by Progress DataDirect drivers.
Other features include the beta release of CI build support with a Jenkins plug-in, the latest updates to NativeScript, a Verified Plugins Marketplace for NativeScript, enhancements to Telerik Backend Services, and support for Android 6, Apple Watch and iOS 9 apps.
"Today, mobile developers are required to deliver cross-platform apps with powerful back ends, insightful user analytics and engaging notifications—all while keeping development costs to a minimum," said Satrom. "As a result, the need for synergy between tools and services that support multiple devices, operating systems and business models has never been higher. Telerik Platform 2.0 gives developers a glimpse into what is possible for cross-platform mobile application development, with enhancements to deliver high-quality apps faster than ever before."