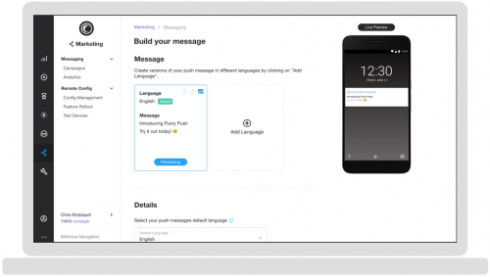 Flurry has announced the availability of Flurry Push. It is a new tool for mobile developers that enables them to send targeted messages to re-engage and retain users across Android and iOS.
According to the company, this allows users to leverage the power of push notifications in order to drive revenue. The three types include promotional, new user retention, and event driven.
"Over the past year, more and more developers like you have been sharing their feedback that messaging is one of the most powerful tools for boosting user engagement," said David Berger, VP of engineering at Oath, in a blog post. "We built Flurry Push with this in mind to empower you to take charge of your app business."
.app is now open
Google has announced the availability of .app. It is the newest top-level domain (TLD) from Google Registry. According to the company, one of the key benefits is the security if built in for developers and users.
"Even if you spend your days working in the world of mobile apps, you can still benefit from a home on the web. With a memorable .app domain name, it's easy for people to find and learn more about your app. You can use your new domain as a landing page to share trustworthy download links, keep users up to date, and deep link to in-app content," the company wrote in a post.
Adobe announces free UX/UI design platform  
Adobe has announced the XD CC Starter plan. It is a free offering of the all-in-one UX/UI design platform. The platform includes Adobe XD for Mac and Windows, mobile apps for iOS and Android, and services that allows users to share user experiences with others, the company explained.
"UX design is one of the fastest growing segments in design," said Scott Belsky, chief product officer and executive vice president of creative cloud at Adobe. "The new Starter plan for Adobe XD supports Adobe's vision to give everyone—from emerging artists to enterprise brands—everything they need to design and deliver exceptional digital experiences and explore the rapidly expanding field of UX design with no financial commitment."
The company also announced a $10 million design investment fund to advance innovation in experience design.
AgilePoint NX launches
AgilePoint has announced the availability of AgilePoint NX. It is a low-code development platform designed to enable developers and citizen programmers to implement and deploy cross-functional/cross-organizational business apps into digital processes.
"AgilePoint NX allows us to create highly automated solutions to common and complex business problems without the need of a developer," says Kyle Kinder, Director of Business Operations for managed cloud provider SingleHop, an INAP company. "This allows us to rapidly create and automate business processes, flexibly integrate with cloud services of our choice, and to quickly adjust to changes to our processes. With AgilePoint NX, our development team is able to maintain focus on revenue-generating initiatives."