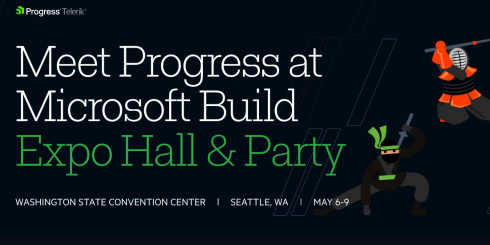 The nature of apps is changing again as businesses scramble to take advantage of new frameworks, chatbots, mixed reality and emerging open source technologies. While developers must help their companies stay competitive, they must also maintain existing apps. Using Progress UI components in Progress' Telerik and Kendo UI product lines, developers can do all that on time and on budget.
"Developers face serious productivity challenges as the number of form factors and devices increases," said Sasha Krsmanovic, VP of product marketing for developer tooling at Progress. "We remove the burden of learning new technologies and frameworks by providing components that work across platforms, allowing developers to reuse their existing skillset."
For more than three decades, Progress has helped its customers master emerging and existing technologies with ease. Through acquisition and internal research and development, the company has stayed on the forefront of new technologies so developers can implement them later without learning those technologies from the ground up.
Progress acquired UI component provider Telerik in 2014, and since then has challenged the Telerik staff to anticipate the next big UI trends and develop frameworks and components that are consistent with those trends, all while staying true to its .NET and JavaScript beginnings.
"That's why we're extending our toolsets to support chatbots and AR/VR now," said Krsmanovic.
In fact, Progress will introduce Telerik's new conversational UI and mixed reality UI offerings at the 2018 Microsoft Build conference so developers can understand the capabilities of and use cases for each.
Chatbots and Conversational UIs
The new Progress NativeChat chatbot framework and complementing Telerik Conversational UI components enable developers to build compelling user experiences that combine powerful natural language processing capabilities with familiar Conversational UI components from Telerik tooling.
Using NativeChat, developers will be able to build and train chatbots without specialized AI knowledge. In addition, unlike platform-specific chatbot frameworks that mirror the look and feel of the specific platform, NativeChat includes theming capabilities so developers can build chatbots that reflect their company's brand identity. More fundamentally, the framework provides an effective mechanism for ensuring productive text or voice conversations between people and bots.
"Chatbots are designed to stay on topic, but end users tend to veer outside the bot's pre-defined scope. Then, end users get frustrated with the bot because it can't respond appropriately, which reflects poorly on the developer and the brand," said Krsmanovic. "Telerik conversational UI components allow developers to design the interface in a way that makes communicating with a chatbot easy."
The Telerik conversational UI components accelerate the delivery of reliable applications because developers can purchase their functionality off-the-shelf instead of building it from scratch. The components are bot-framework-agnostic and work across all .NET and JavaScript frameworks supported by Telerik and Kendo UI product lines.
Leverage Microsoft HoloLens
Progress will be previewing its forthcoming Telerik AR/VR UI components at Build. The components will enable developers to reuse existing skills to add HoloLens and 3D charting capabilities to their apps in a simple plug-and-play fashion.
"Working in 3D is a really difficult because you have to think differently about how a UI looks and reacts to user interactions," said Krsmanovic. "While these capabilities are not yet part of mainstream enterprise app development, they will be in the future. We're investing in this today so tomorrow you can easily build AR/VR capabilities into your apps."
Add Dependability to Open Source
Open source has become a staple in enterprise environments that want to stay current with the latest technology trends and community-driven innovation.
"Developers sometimes get burned by open source projects that come and go" said Krsmanovic. "Enterprise developers want to take advantage of what's new, cool and shiny but they also need a partner who will be around to support their longterm projects."
The Progress Kendo UI line now supports all the popular open-source JavaScript frameworks including Angular, React and Vue.
Get More Accomplished
NASA uses Telerik products to visualize and give the public access to Mars Rover data. The data is made available through the NASA analyst notebook, which is presented to the public as a web app.
Before creating the analyst notebook web app, NASA was using several development tools that weren't integrated, which made the project difficult. Using Telerik UI and reporting tools, which operate across NASA's other development tools, one developer can now accomplish the same amount of work that required three developers in the past.
Learn more at www.telerik.com/build-2018.