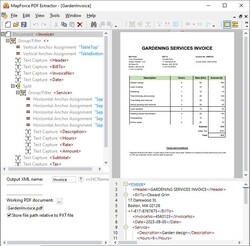 Altova announced the release of Version 2024 of its desktop developer tools, server software, and regulatory solutions with important new features.
"We are excited to announce AI integration in multiple products to enhance developer productivity and creativity," said Alexander Falk, president and CEO of Altova. "At the same time, we've added one of the most-often requested features to MapForce, which is support for PDF. The new MapForce PDF Extractor will be a game changer for unlocking the volumes of data previously trapped in PDF documents and accessing it for use in data integration and ETL processes." 
A new feature in XMLSpy is the AI Assistant, which enhances productivity for XML and JSON development by creating schemas, instance documents, and sample data through natural language prompts. The AI Assistant in XMLSpy can produce XSL, XPath, and XQuery code, which users can copy, open in a new document, or send to the XPath/XQuery window for further editing and examination.
There is also AI integration in DatabaseSpy, which includes an AI Assistant for generating SQL statements, sample data, table relations, and more, as well as AI extensions to explain, pretty print, and complete SQL statements.
Other features include MapForce PDF Extractor, which is a visual utility for defining the structure of a PDF document and extracting data from it, and Split output preview for XML and database report design in StyleVision, which shows output in side-by-side panels.
Additional details are available here.