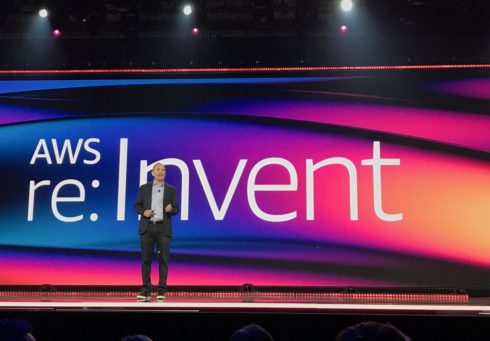 Amazon Web Services' global customer and partner conference AWS re:Invent 2019 has kicked off this week in Las Vegas. The conference will feature sessions, breakout content, bootcamps, certifications, hands-on labs and an expo hall. 
In addition to the number of announcements being made by the company, third-party vendors are also announcing new solutions and support. 
Here are some highlights: 
Matillion Data Loader launched
Matillion announced a free SaaS data integration solution designed to simplify, easily load, and migrate data. The Matillion Data Loader will help teams centralize the management of BI and analytics by allowing them to take data for different sources and load it to their chosen cloud data warehouse. 
Features include: the ability to replicate data from popular data sources into a cloud data warehouse; a code-free wizard-based pipeline builder; and a dashboard view of pipeline runs and data volumes.
Instana announces Node.js functions for AWS Lambda
Users can now trace serverless Node.js functions running on AWS Lambda with Instana's new announcement. The capabilities feature zero code modification, automated native serverless tracing, and performance metrics. 
"As companies continue to push the envelope in creating smaller, more dynamic services, developers will use serverless functions more often, and in more critical applications," said Mirko Novakovic, co-founder and CEO of Instana. "By providing Native Node.js tracing on AWS Lambda, Instana helps application stakeholders like DevOps see how individual functions are performing call by call, but also provides the necessary details developers need to make their code perform as expected."
Dynatrace supports AWS hybrid clouds
Dynatrace announced it is extending its AI-powered software intelligence platform to support AWS hybrid clouds. According to the company, this will give users complete visibility and actionable insights into the performance of their applications running in AWS hybrid clouds. 
"AWS Outposts extends AWS public cloud services to create a seamless hybrid experience in how organizations build, operate and manage their application workloads across cloud and on-premise environments," said Steve Tack, SVP of products at Dynatrace. "To maximize benefits, organizations need the same consistent experience from their monitoring solutions for AWS hybrid environments. Dynatrace offers the same manageability, control, and functionality across hybrid environments, reducing the complexity and risk associated with alternative approaches that do not support hybrid environments in a single platform."
PagerDuty for Cloud Operations
The newly announced solution is designed to help IT and DevOps teams transform operation practices as they move to the cloud. Together with AWS solutions, users will be able to automatically detect incidents, respond in real time and automate workflows. 
Core components include: PagerDuty's digital operations management platform, join integrations with PagerDuty and AWS services, DagerDuty's Digital Operations Maturity Model, and solution architecting. 
MongoDB Atlas adds support for AWS services
The cloud database will now support AWS CloudFormation, EventBridge, PrivateLink and more. MongoDB Atlas with AWS PrivateLink will help ensure private connectivity to apps running on AWS. SAML authentication will be added through AWS Single Sign-On and other identity management providers. The company's client-side field level encryption can now be used with AWS Key Management Service. Atlas will also be able to support X.509 client certificates. 
In addition, Amazon EventBridge will help customers build event-even apps that leverage operational data from Atlas. And AWS CloudFormation support will help Atlas users automate data infrastructure deployments. 
IonQ to help AWS with quantum computing
As part of Amazon's quantum computing announcement (Braket), IonQ will bring its approach to AWS and allow users to run their own calculations on a quantum computer. 
"We believe that opening up access to current-stage quantum computers is a crucial step in accelerating the development of useful applications. That's why, in designing Amazon Braket, we chose to collaborate with providers like IonQ, who have built promising technologies that are of interest to our customers," said Simone Severini, director of quantum computing for AWS. "Together, we can make it easier for researchers to innovate, with the shared goal of realizing the true long-term potential of quantum computing."
SentinelOne now available in AWS Marketplace
SentinelOne is an autonomous endpoint protection company. Its combined EPP (protection) and EDR (detection and response) solutions will now be available in AWS Marketplace. "The future of business has moved to the cloud and cloud workloads must be protected with innovative, proactive technology for organizations to succeed in today's threat landscape," said Raj Rajamani, chief product officer for SentinelOne. "By making SentinelOne available in AWS Marketplace, we are making our solution directly accessible to our extensive channel partner network and direct enterprise customers across industries. This expands both SentinelOne business growth opportunities and AWS customer capabilities in maintaining an optimal security posture."
ExtraHop now integrates with AWS
The new integration will automate the isolation of compromised Amazon Elastic Compute Cloud instances and help security operations teams create customize response automations, the company explained. 
The company also announced new features to its Reveal(x) Cloud solution, which include related detections, enhanced reporting, and 1G, 5G, and 10G SaaS offerings with Continuous Packet Capture.
Druva announces new protection capabilities for AWS workflows
New capabilities include Amazon S3 backup and archival, and global data management policies. "AWS's ease-of-use, competitive cost, and vast array of services have enabled enterprises to build today's applications, scaling on demand and innovating for the future," said Mike Palmer, chief product officer for Druva. "Given how easy it is to set up environments in AWS, enterprises look to further reduce business risk, increase operational efficiency, and retain visibility of all their data. As one of the only data protection solutions built entirely on AWS, and given our intimate knowledge of it, Druva is the ideal solution to help leverage AWS to the fullest and drive our customers' business forward.
Threat Stack to support AWS Fargate
AWS Fargate is a compute engine for Amazon Elastic Container Services that enables containers to run without having to manage servers or clusters. The new support will help users detect threats and mitigate risk across their entire cloud ecosystem, the company explained. 
DataRobot available on AWS Marketplace
The enterprise AI platform is now available on AWS Marketplace. According to the company, this will make it easier to purchase and help transform raw data to value faster. 
JFrog brings CloudPro X to AWS Marketplace
Cloud Pro X is a subscription package that includes JFrog Artifactory and JFrog Xray solutions. JFrog Xray integrates with JFrog Artifactory, which then provides automated and continuous scanning to detect known security vulnerabilities. 
"Businesses throughout the world are accelerating their move towards cloud and services while increasing their adoption of DevOps and DevSecOps to account for continuous delivery and seamless deployments," said Casey O'Mara, Sr. Director of Cloud Alliances at JFrog. "We are excited to announce our launch of JFrog Cloud Pro X and JFrog Container Registry on AWS Marketplace. Developers will now be able to secure their CI/CD pipelines not only in their data center but now as a SaaS Service offered in the cloud. This is exciting because now you can deploy reliable, secure applications all on cloud infrastructure," said Casey O'Mara, senior director of cloud alliances at JFrog
Rackspace extends its Rackspace Service Blocks portfolio
The new extension is meant to provide professional and managed services for AWS. 
"Our customers need deep AWS expertise that helps them develop, deploy, and integrate the latest applications, improve and secure their infrastructure, and ultimately make the most of what AWS has to offer so that they can move their businesses forward," said Matt Stoyka, chief relationship officer for Rackspace. "Our enhancement of Rackspace Service Blocks bridges the skills gap faced by customers who are quickly maturing on AWS." 
The blocks are modular cloud services comprised of customizable services. The newly introduced service block patterns feature container services, hybrid transformation with VMware Cloud on AWS and data modernization.