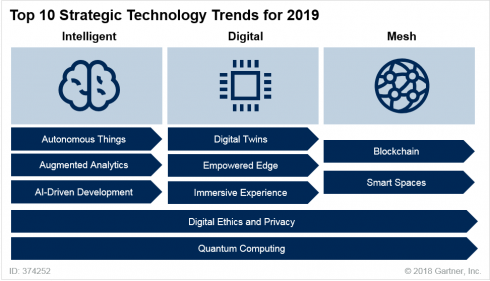 Gartner has revealed its annual technology trends for the upcoming year at this week's Gartner Symposium/ITxpo in Orlando. The research firm produces its Top 10 Strategic Technology Trends list every year to give organizations insight into what they can expect.
According to Gartner, a strategic technology trend refers to a trend that has substantial disruptive potential and is becoming more popular in impact and use.
Once again, the trends fall into three categories: intelligent, digital and mesh. Under intelligence, Gartner has predicted autonomous things, augmented analytics and AI-driven development to be prevalent over the next year. Digital includes digital twins, empowered edge and immersive experience. Mesh includes blockchain and smart spaces. Digital ethics and privacy, and quantum computing fall under intelligent, digital and mesh, according to Gartner.
"The Intelligent Digital Mesh has been a consistent theme for the past two years and continues as a major driver through 2019. Trends under each of these three themes are a key ingredient in driving a continuous innovation process as part of a ContinuousNEXT strategy," said David Cearley, vice president and Gartner Fellow. "For example, artificial intelligence (AI) in the form of automated things and augmented intelligence is being used together with IoT, edge computing and digital twins to deliver highly integrated smart spaces. This combinatorial effect of multiple trends coalescing to produce new opportunities and drive new disruption is a hallmark of the Gartner top 10 strategic technology trends for 2019."
A ContinuousNEXT strategy is the future evolution of Gartner concepts, according to the firm. It includes privacy, augmented intelligence, culture, product management and digital twin. "Nearly two-thirds of CEOs and CFOs anticipate business model change, frequently due to digital transformation, and investors are encouraging that change. They reward organizations that wrap every product and service with digital capabilities," said Mike Harris, executive vice president and global head of research for Gartner. "They are not just interested in data – which is now old news – they are interested in what you do with data through advanced analytics and artificial intelligence. Leaders apply technology and information in unique and creative ways to outperform their peers. It's what distinguishes them from the rest, and that's where ContinuousNEXT come in."
Gartner's top 10 strategic technology trends are:
Autonomous things: Last year, one of Gartner's trends included intelligent things which encompassed autonomous thing such as vehicles, robots and drones. This year, the firm is making it into its own category for its use of AI to automate functions. "As autonomous things proliferate, we expect a shift from stand-alone intelligent things to a swarm of collaborative intelligent things, with multiple devices working together, either independently of people or with human input," said Cearley. "For example, if a drone examined a large field and found that it was ready for harvesting, it could dispatch an 'autonomous harvester.' Or in the delivery market, the most effective solution may be to use an autonomous vehicle to move packages to the target area. Robots and drones on board the vehicle could then ensure final delivery of the package."
Augmented analytics: Also a revamped category from last year's intelligent apps and analytics, augmented analytics refer to solutions that use machine learning to transform the way analytics are developed, consumed and shared. This includes data preparation, data management, modern analytics, business process management, process mining and data science platforms, according to Gartner. Gartner also predicts the number of citizen data scientists will grow five times faster than the number of expert data scientists throughout 2020. This will happen as a result of the growing data science and machine learning talent gap, the organization explained.
AI-driven development: AI-driven development represents the evolution of tools, technology and best practices with AI capabilities, according to Gartner. Organizations are now faced with creating and leveraging AI-enhanced solutions such as AI algorithms and models. The firm predicts by 2022, 40 percent of new app development projects will include AI co-developers within their teams. "Ultimately, highly advanced AI-powered development environments automating both functional and nonfunctional aspects of applications will give rise to a new age of the 'citizen application developer' where non-professionals will be able to use AI-driven tools to automatically generate new solutions. Tools that enable nonprofessionals to generate applications without coding are not new, but we expect that AI-powered systems will drive a new level of flexibility," said Cearley.
Digital twins: Digital twins has been an ongoing trend within Gartner's top 10 strategic list over the last couple of years. According to Gartner, a digital twin refers to "the digital representation of a real-word entity or system." The firm expects to see more than 20 billion connected sensors and endpoints by 2020, meaning digital twins will exist for billions of things. "One aspect of the digital twin evolution that moves beyond IoT will be enterprises implementing digital twins of their organizations (DTOs). A DTO is a dynamic software model that relies on operational or other data to understand how an organization operationalizes its business model, connects with its current state, deploys resources and responds to changes to deliver expected customer value," said Cearley. "DTOs help drive efficiencies in business processes, as well as create more flexible, dynamic and responsive processes that can potentially react to changing conditions automatically."
Empowered edge: Edge computing enables information processing, content collection and content delivery to happen closer to the sources and repositories of the information, Gartner explained. It is designed to reduce traffic and latency. Currently, the edge is being powered by the IoT. Gartner sees AI chips, greater processing powers, storage and advanced capabilities being applied to edge devices over the next five years.
Immersive experience: A repeating trend from last year, immersive experience is a trend where the way people interact with and perceive the digital world is being transformed. Examples of this include augmented reality, mixed reality and conversational platforms. Gartner predicts a combined shift in perception and interaction will lead to a full immersive user experience in the future.
Blockchain: Also an ongoing trend from last year, blockchain is a type of distributed ledger that promotes trust, transparency and reduced friction across business ecosystems. "Current blockchain technologies and concepts are immature, poorly understood and unproven in mission-critical, at-scale business operations. This is particularly so with the complex elements that support more sophisticated scenarios," Cearley said. "Despite the challenges, the significant potential for disruption means CIOs and IT leaders should begin evaluating blockchain, even if they don't aggressively adopt the technologies in the next few years."
Smart spaces: "A smart space is a physical or digital environment in which humans and technology-enabled systems interact in increasingly open, connected, coordinated and intelligent ecosystems. Multiple elements — including people, processes, services and things — come together in a smart space to create a more immersive, interactive and automated experience for a target set of personas or industry scenarios," Gartner explained. Examples include smart cities, digital workplaces, smart homes and connected factories.
Digital ethics and privacy: As our lives are becoming more digital, individuals, organizations and governments are working towards ensuring digital ethics and privacy. People want to know how their personal information will be used in the public and private sector, and how they can control and secure their digital identities. Gartner expects a lot of work to go into compliance, mitigating risks and following values over the next year. "Any discussion on privacy must be grounded in the broader topic of digital ethics and the trust of your customers, constituents and employees. While privacy and security are foundational components in building trust, trust is actually about more than just these components," Cearley explained. "Trust is the acceptance of the truth of a statement without evidence or investigation. Ultimately an organization's position on privacy must be driven by its broader position on ethics and trust. Shifting from privacy to ethics moves the conversation beyond 'are we compliant' toward 'are we doing the right thing.'"
Quantum computing: Lastly, Gartner expects quantum computing to emerge over 2019. Quantum computing is a "type of nonclassical computing that operates on the quantum state of subatomic particles (for example, electrons and ions) that represent information as elements denoted as quantum bits (qubits)," according to Gartner. Key potential applications include: optimization, material science, chemistry, personalized medicine and biology. While Gartner doesn't expect quantum computing to take off for the next couple of years, it believes organizations should start understanding what it means and how it can be applied to real-world business problems.
To compare, last year's trends are available here.