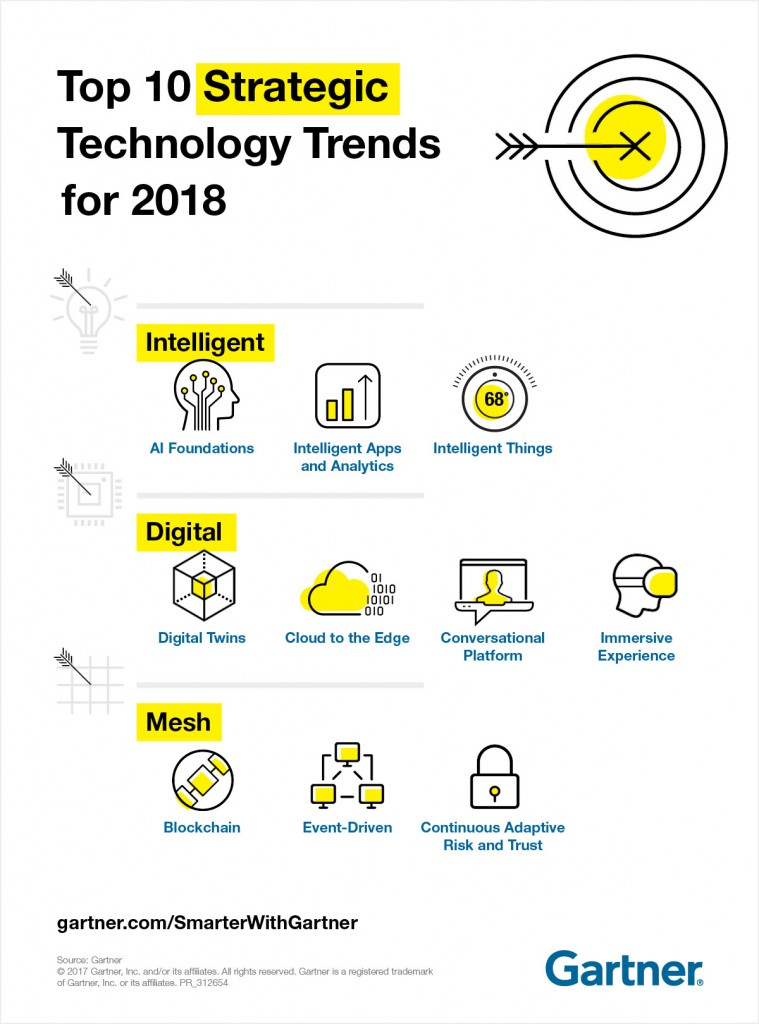 With 2017 drawing to a close, Gartner is looking to the future. The organization announced its annual top strategic technology trends at the Gartner Symposium/ITxpo this week.
The basis of Gartner's trends depends on whether or not they have the potential to disrupt the industry, and break out into something more impactful.
The top 10 strategic technology trends, according to Gartner, are:
AI foundation: Last year, the organization included artificial intelligence and machine learning as its own trend on the list, but with AI and machine learning becoming more advanced, Gartner is looking at how the technology will be integrated over the next five years. "AI techniques are evolving rapidly and organizations will need to invest significantly in skills, processes and tools to successfully exploit these techniques and build AI-enhanced systems," said David Cearley, vice president and Gartner Fellow. "Investment areas can include data preparation, integration, algorithm and training methodology selection, and model creation. Multiple constituencies including data scientists, developers and business process owners will need to work together."
Intelligent apps and analytics: Continuing with its AI and machine learning theme, Gartner predicts new intelligent solutions that change the way people interact with systems, and transform the way they work.
Intelligent things: Last in the AI technology trend area is intelligent things. According to Gartner, these go beyond rigid programming models and exploit AI to provide more advanced behaviors and interactions between people and their environment. Such solutions include: autonomous vehicles, robots and drones as well as the extension of existing Internet of Things solutions.
Digital twin: A digital twin is a digital representation of real-world entities or systems, Gartner explains. "Over time, digital representations of virtually every aspect of our world will be connected dynamically with their real-world counterpart and with one another and infused with AI-based capabilities to enable advanced simulation, operation and analysis," said Cearley. "City planners, digital marketers, health care professionals and industrial planners will all benefit from this long-term shift to the integrated digital twin world."
Cloud to the edge: According to Gartner, edge computing is a form of computing topology that processes, collects and delivers information closer to its source. "When used as complementary concepts, cloud can be the style of computing used to create a service-oriented model and a centralized control and coordination structure with edge being used as a delivery style allowing for disconnected or distributed process execution of aspects of the cloud service," said Cearley.
Conversational platforms: Conversational platforms such as chatbots are transforming how humans interact with the emerging digital world. This new platform will be in the form of question and command experiences where a user asks a question and the platform is able to respond.
Immersive experience: In addition to conversational platforms, experiences such as virtual, augmented and mixed reality will also change how humans interact and perceive the world. Outside of video games and videos, businesses can use immersive experience to create real-life scenarios and apply them to design, training and visualization processes, according to Gartner.
Blockchain: Once again, blockchain makes the list for its evolution into a digital transformation platform. In addition to the financial services industry, Gartner sees blockchains being used in a number of different apps such as government, health care, manufacturing, media distrubtion, identity verification, title registry, and supply chain.
Event driven: New to this year's list is the idea that the business is always looking for new digital business opportunities. "A key distinction of a digital business is that it's event-centric, which means it's always sensing, always ready and always learning," said Yefim Natis, vice president, distinguished analyst and Gartner Fellow. "That's why application leaders guiding a digital transformation initiative must make 'event thinking' the technical, organizational and cultural foundation of their strategy."
Continuous adaptive risk and trust: Lastly, the organization sees digital business initiatives adopting a continuous adaptive risk and trust assessment (CARTA) model as security becomes more important in a digital world. CARTA enables businesses to provide real-time, risk and trust-based decision making, according to Gartner.
"Gartner's top 10 strategic technology trends for 2018 tie into the Intelligent Digital Mesh. The intelligent digital mesh is a foundation for future digital business and ecosystems," said Cearley. "IT leaders must factor these technology trends into their innovation strategies or risk losing ground to those that do."
To compare, last year's trends are available here.
In addition, the organization also announced top predictions for IT organizations and users over the next couple of years. The predictions include: early adopters of visual and voice search will see an increase in digital commerce revenue by 30% by 2021; five of the top seven digital giants (Alibaba, Amazon, Apple, Baidu, Facebook, Google, Microsoft and Tencent) will willfully self-disrupt by 2020; and IoT technology will be in 95% of electronics by 2020.