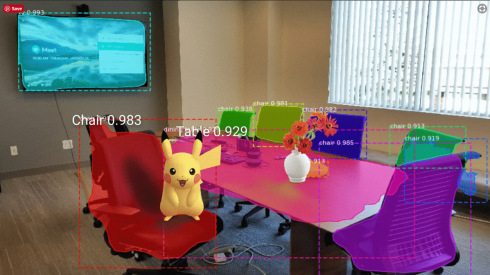 Niantic made headlines two years ago when it launched Pokémon GO and changed everything. It became one of the most popular mobile apps in history, and set the landscape for augmented reality developers.
Today, the company is providing a preview of its Niantic Real World Platform for the first time publicly, and giving developers the opportunity to build upon it. Niantic announced plans to give select third-party developers access to its cross-platform AR tools.
The company explains that the Niantic Real World Platform is an operating system designed to bridge the digital and physical worlds.
"Building on our collective experience to date, we are pushing the boundaries of geospatial technology, and creating a complementary, interactive real-world layer that consistently brings an engaging experience to users," the company wrote in a post.
According to the company, its AR efforts differ from traditional efforts because instead of focusing on a computer model centered around roads and cars, Niantic approaches computer vision around people. The company is also focusing on how to bring augmented reality technology to power-limited devices.
"Knitting together a cohesive moving perspective is a challenge, but we are focused on solving it through a blend of machine learning and computer vision–all built on top of reliable and scalable infrastructure," the company wrote.
Niantic calls this contextual computer vision, where AR can understand not just what is around it, but what it means and how it is related to other objects. "Once we understand the 'meaning' of the world around us, the possibilities of what we can layer on is limitless. We are in the very early days of exploring ideas, testing and creating demos," Niantic wrote.
Another limitation to AR the company plans to work on is understanding where objects are, not just what they are. The company just announced this week it is acquiring the computer vision and machine learning company Matrix Mill to help it reach its goal of having machines see and understand the world around them. In addition, the company acquired Escher Reality earlier this year to bolster its Planet Scale AR efforts.
Some capabilities the company have developed and are continuing to develop for the AR world include low-latency AR networking techniques as well as cross-platform AR technology for shared experiences.
"Because we are so excited about the opportunity in advanced AR, we want other people to be able to make use of the Niantic Real World Platform to build innovative experiences that connect the physical and the digital in ways that we haven't yet imagined. We will be selecting a handful of third party developers to begin working with these tools later this year," the company wrote. "When we built Niantic, we structured the company's mission around three core values: exploration, exercise, and real-world social interaction. But not in our wildest dreams did we imagine the kind of positive impact our Augmented Reality (AR) experiences would have on our players and the communities where they live."