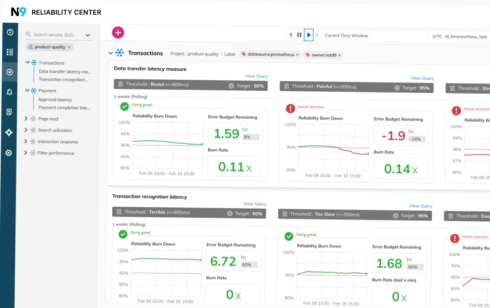 The software reliability company Nobl9 has announced the release of the Nobl9 Reliability Center, which is a platform designed to act as a company's single source of truth for the reliability of all of their software. 
According to a recent report the company commissioned from Dimensional Research, 72% of companies use six or more observability tools. 
The Nobl9 Reliability Center was created in an effort to help companies consolidate all the different tools they use into a single solution so that they can see everything in one place. 
The tool includes dashboards and reports that provide a Reliability Score that is calculated from a number of different service level objectives (SLOs). 
It also offers a few capabilities to help with SLO management, such as error-budget-based alerts, visibility into the overall health of an organization, and new features that will help with prescribing SLOs and policies.
"With Reliability Center, Nobl9 customers get extraordinary insight into reliability across user journeys, architecture structures, departments, and teams. Customers can use the Reliability Center to quickly pinpoint which systems are contributing to the overall reliability of a complex software ecosystem," said Brian Singer, co-founder and chief product officer at Nobl9. "As infrastructure has become more complex, we have worked with our customers, OpenSLO and SLODLC community members, and SLO users to deliver the best experiences and reporting available to help them optimize their cloud resources while keeping customers happy. The reliability rollup view launched today is the first of many features planned to enable organizations to draw deeper insights from their SLOs."