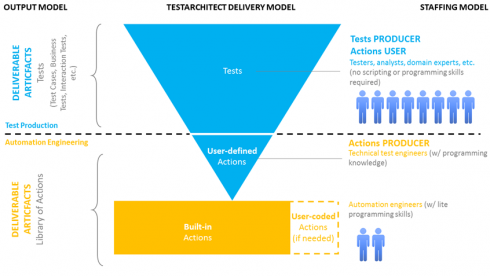 LogiGear has announced its test automation solution TestArchitect is now available for Oracle E-Business Suite apps and Oracle JD Edwards.
"Our TestArchitect offers simple turnkey test automation solutions, robust technology, attention to detail and unparalleled support for business analysts, technical testers and automation engineers alike," said Hung Nguyen, CEO of LogiGear. "With this release of TestArchitect, Oracle implementations are natively supported, enabling testing teams to achieve quick and easy automation in large scale. We are pleased to support Oracle E-Business Suite and Oracle's JD Edwards."
Key features of the solution include:
Support for Oracle Forms packaged app, web app, web services, database, PDF testing
Over 400 built-in actions with smart functionalities
Parallel test execution
Ability to analyze test reports
Variation Handling
Data-driven testing, multi-user testing, distributed testing and test management, reporting and dashboard
Extended automation capabilities
And integration with Selenium WebDriver, MS Visual Studio/ TFS/ Test Manager, Quality Center, Jira, Zephyr, and Jenkins
Accusoft announces FormSuite for Structured Forms 5.1
Accusoft has updated its multi-purpose forms processing solution for .NET developers. The latest version of FormSuite for Structured Forms features functionality updates, and enhancements to the FormAssist tool.
Other key features include drag-and-drop capabilities, updates to the OCR tools, ability to clone form templates and new sample forms.
"Our clients let us know that the enhanced form processing functionality was important to them, as was the ability to use any number of new storage options," said Jack Berlin, Accusoft CEO. "With this release we've addressed those concerns, helping FormSuite grow with the needs of our customer base."
NVIDIA open sources Material Definition Language SDK
NVIDIA is giving developers the ability to integrate MDL support into rendering apps with its latest open source set of tools. The MDL SDK provides components for loading, inspecting, and editing material definitions.
"The NVIDIA Material Definition Language (MDL) is a programming language for defining physically based materials for rendering. A rich vocabulary of material building blocks based on bidirectional scattering distribution functions (bsdf) allows creation of a wide range of physical materials such as woods, fabrics, translucent plastics and more. The language is flexible enough to allow applications to add support for popular material models without additional changes in a renderers core shading code, examples would be the Epic's Unreal physical material model or the material model used for in X-Rite's SVBRDF model," the company explained.
With the newly open-source SDK, developers can expand and adapt MDL based on their needs as well as add more functionality.
eBay gives developers new APIs and AI capabilities
At its annual developer conference, eBay announced new features for third-party developers. The company announced its image recognition technology is now available through the Image Search API, and new computer vision-based features such as image search, drag-and-drop visual shopping, and Find it On eBay.
Other features announced at the conference included a machine translation API and feed platform for buy APIs.
The company also announced an expanded developer strategy with buy APIs, inventory API, trading API and fulfillment API.
More information is available here.