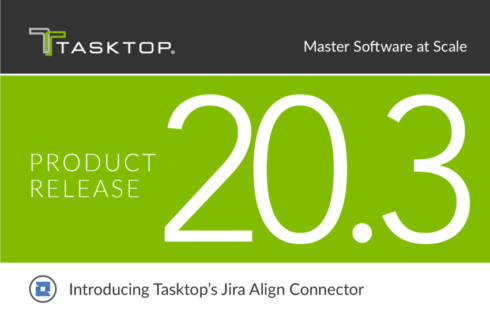 The release of Tasktop Hub 20.3 includes the ability to integrate Jira Align as well as new UX features.
Jira Align is also supported by Tasktop Viz, where enterprises get insight into the flow of business value, starting from strategic planning in Jira Align and all through the implementation by individual value streams working in other tools.
Additionally, settings were consolidated onto a single page, there's a new icon decorating the Field Mapping and Field Flow screens.
"This new integration provides more visibility into flow and optimization opportunities at the early stages of idea elaboration and planning," said Nicole Bryan, chief product officer at Tasktop. "Flow metrics and diagnostics on the work done in Jira Align and its subsequent breakdown in other tools can help shine a light on activity at the top of the funnel and help organizations progress their shift from project to product."
More details on the new release are available here.
SQL Server Management Studio 18.6
The 18.6 release includes several high impact changes including a fix for crashes in database diagrams. 
Other key fixes include a fix for a save to XEL file error, Bacpac file import error, and the release addresses source of three common application hangs.
In recent releases, several points of integration between Azure Data Studio and SSMS have been introduced. Additional details are available here.
Adobe, IBM and Red Hat's digital transformation partnership
The strategic partnership aims to accelerate digital transformation and to strengthen real-time data security for enterprises, with a focus on regulated industries.
The partnership will initially focus on deployment flexibility within any hybrid cloud environment, as well as Adobe enabled for financial services, and IBM iX, the business design arm of IBM Services, will extend their offerings across all of Adobe's core enterprise applications.
As part of the partnership IBM has named Adobe its "Global Partner for Experience" and will begin adopting Adobe Experience Cloud and its enterprise applications to transform its own global marketing.