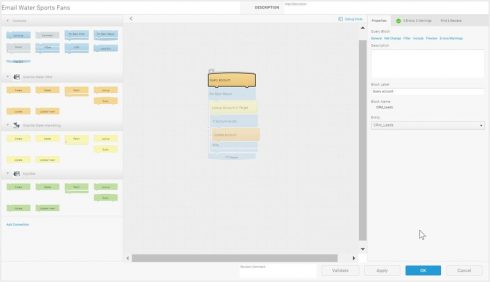 TIBCO has announced it is acquiring the cloud-based integration service Scribe Software. According to the company, Scribe helps businesses connect SaaS apps and automate data flows with a browser-based approach. The acquisition will combine Scribe's capabilities with TIBCO Cloud Integration's SaaS and hybrid integration features.
"By strengthening TIBCO's Connected Intelligence Cloud with Scribe's unique data automation and SaaS integration capabilities, we enable the broadest set of users to participate in digital transformation efforts," said Matt Quinn, chief operating officer for TIBCO. "Scribe's straightforward, code-free method of creating, testing, and managing data flows enables thousands of customers and partners to quickly and easily connect their SaaS apps for better business performance. We are excited to have Scribe as part of TIBCO, and welcome its customers and partners to the TIBCO community."
IBM and H2O.ai announce AI enterprise partnership
IBM and H2O.ai are teaming up to bring artificial intelligence to the enterprise. The companies announced at H2OWorld it will be combining IBM POWER Systems and H2O Driverless AI to address enterprise AI needs.
The partnership will include Driverless AI on IBM Power Systems to accelerate machine learning insights, a joint solution to leverage GPU-accelerated machine learning, and an on-ramp deep learning toolkit.
Apache Pulsar 2.0 released
Apache Pulsar is a open-source pub-sub messaging system developed by Yahoo. The 2.0 version is designed to support easy development and deployment of data-driven apps. In addition, the performance, scalability and durability will receive improvements. Other features include Pulsar functions, schema registry, and topic compaction.
"This is an important milestone demonstrating the maturity and continued innovation of the Apache Pulsar solution," notes Matteo Merli, co-founder of Streamlio and the architect and lead developer of Pulsar while at Yahoo. "Designed from day one to deliver unmatched performance, scalability, and operational simplicity, Pulsar provides the enterprise-class technology needed to enable companies to move beyond the limits of traditional batch-centric approaches to the data-driven future where they can immediately process and act on fast-moving data as quickly as it arrives."
Riverbed APM solution updated
Riverbed wants to redefine APM with the latest release of its APM and end-user experience monitoring solution. The latest release of SteelCentral comes along with a AI-based business analytics solution as well as new integration between SteelCentral and Riverbed Xirrus Wi-Fi access points.
"As companies transform their business, there is a critical need for them to understand the impact of their digital initiatives: both in terms of the customers' experience and the interaction between application components and that experience. When there is ineffective digital experience management, this leads to business disruption in the form of risk to the reputation of the company and management, a decrease in revenue growth, lack of scale or lack of customer insight," said Stephen Elliot, program vice president of management software and DevOps at IDC. "When the focus is on the end user customer, the business wins."