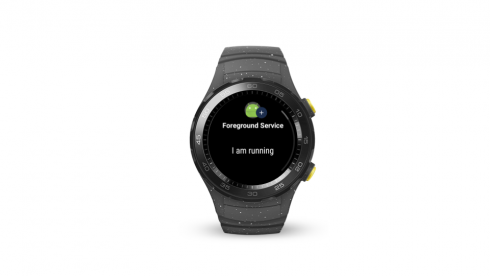 Google has announced new changes to the WearOS by Google developer preview. According to the company, battery life has been a major focus area. After reviewing developer feedback, the company found users were unhappy with the disabling of alarms and jobs for background apps. As a result, Google is reversing the change and will be reflected in all WearOS preview devices.
"The decision came as we reviewed the feedback and saw that a strict on/off setting prevents reasonable usage and promotes anti-patterns," Hoi Lam, lead developer advocate for WearOS by Google, wrote in a post. "Going forward, we plan to leverage the App Standby Buckets feature in Android P to fine-tune a suitable setting for Wear OS devices. The exact setting for alarms and jobs for background apps is still being iterated on. Developers are advised to follow the best practices to make sure their apps behave well, whichever bucket the apps are in."
The company suggests developers also pay attention to the input and data privacy feature for background apps in Android P. "Depending on an app's requirements, developers may need to use a foreground service to enable access to the device sensor throughout the day," Lam wrote.
Synopsys updates its SAST tool
Synopsys is updating its static application security testing (SAST) tool with new features to enhance the development of secure apps. The latest release features integration with the company's on-demand security training solution for developers. Through the integration, developers can access the platform from the Coverity interface and take advantage of context-relevant training modules to improve their security as well as detect issues in their code. Other enhancements include security analysis improvements for detecting bugs across programming languages and frameworks and the ability to detect code patterns vulnerable to Spectre attacks.
"As more organizations adopt rapid and iterative development methodologies, it is increasingly important to shift security left in the development process," said Andreas Kuehlmann, senior vice president and general manager of Synopsys Software Integrity Group. "That means equipping developers with the tools and training they need to take ownership of the security of their code. Finding and fixing vulnerabilities early and teaching developers to avoid security missteps in the first place results in more secure code, and it also prevents costly rework and unnecessary delays."
Apple prohibits cryptocurrency mining
Apple does not want any apps with cryptocurrency mining features in its app store. The company updated the app developer guidelines to ensure developers can't sneak these types of capabilities in.
"Apps, including any third party advertisements displayed within them, may not run unrelated background processes, such as cryptocurrency mining," according to the guidelines.
In addition, there is a section on cryptocurrencies in general that states processing must be performed off the device, apps can performance cryptocurrency transactions or transmissions on an approved exchange, and apps that offer ICOs must come from established banks, security firms, commission merchants or other approved financial institutions.
"Cryptocurrency apps may not offer currency for completing tasks, such as downloading other apps, encouraging other users to download, posting to social networks, etc," the guidelines state.  
Firefox productivity features for iOS
Mozilla's browser Firefox is announcing new iOS productivity features. The features include downloading on the go, saving links, and syncing up with all devices that use Firefox.
"Whether you're a multi-tasker or someone who doesn't want to waste time, we're rolling out new features to up your productivity game," the company wrote in a blog post.