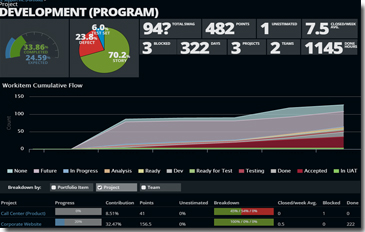 VersionOne is aiming to help organizations make better decisions, improve planning, and successfully implement agile. The company recently announced its 2015 Spring Release with new features that promote best practices and provide easy access to key metrics.
(Related: How to sustain your agile transition)
"VersionOne is committed to continuing to enhance our platform to help our customers with successful agile transformations," said Robert Holler, CEO of VersionOne. "We've seen a growing demand for easy access to key metrics and agile resources, as validated in the ninth annual State of Agile survey. Our Spring Release helps organizations focus on the highest-priority initiatives first and promote agile adoption internally."
Performance scorecards have been added in this release so that organizations can instantly see their key performance indicators at the team, portfolio and program level. This new feature is designed to provide an easy way for users to spot and mitigate issues faster and get more details about specific areas.
Also new in this release is the communities feature, which helps users build, maintain and promote agile best practices across the team or throughout the organization.
In addition, the 2015 Spring Release improves other features such as strategic planning levels, portfolio-level visualization, and portfolio-level process orchestration. Strategic planning levels now allow users to visualize different portfolio-level items. Portfolio-level visualization has been enhanced to help users decide, plan and deliver features. Portfolio-level process orchestration provides a new portfolio-planning menu that allows users to distinguish higher-level planning functions from product planning activities.
More information is available here.