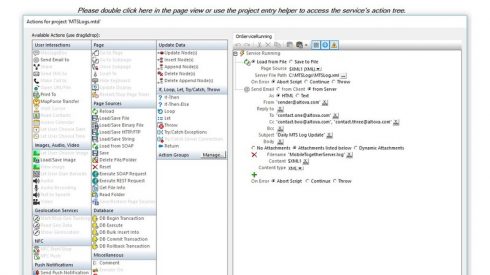 Altova has announced the latest version of its framework for cross-platform mobile app development. MobileTogether 4.1 features a new MobileTogether Server Advanced Edition, and new functionality in MobileTogether Designer, which includes building services, calendar integration, pop-up windows, and more granular testing options.
"We are adding increased sophistication with each release of MobileTogether – without hindering the ease-of-use for building enterprise solutions and other data-driven, native apps," said Alexander Falk, president and CEO of Altova. "The new features in this release are a combination of customer requests and innovative new functionality for RMAD that you'll only find in MobileTogether."
The MobileTogether Server Advanced Edition provides specialized functionality for in-depth app development scenarios. With added support to the read/write to device calendars, it provides more integration with the calendars on the user's device for apps including scheduling functionality.
The MobileTogether Designer can now use the Outlook contacts manager and calendars for testing apps with email and calendar integration. The rich text control allows developers to implement solutions that include formatting. This is important for solutions used in the Windows 8/10 client and web browser.
The new pop-up window provides an easier way to define a sub-page in the app design. This version also provides a new action that defines when and how data is used by a user's input. The new action allows users to cancel a form before submitting a complete form.