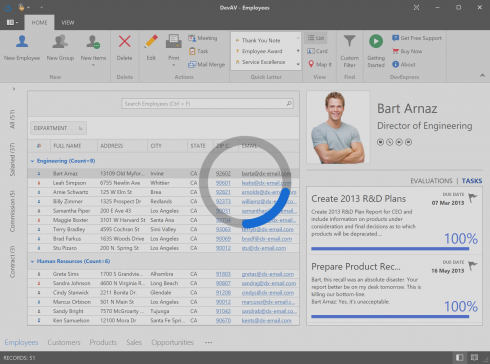 Developer Express has announced the availability of its newest release for Windows and web development, DevExpress Universal v18.1. This is the first major release for the year. The latest version of DevExpress Universal is built and optimized for desktop, web, and mobile developers, and features more than 500 individual components and UI libraries.
The latest release comes filled with new capabilities for the company's Windows desktop controls, web controls, enterprise and server tools, and frameworks & productivity solutions.
Windows desktop controls features chart control, data grid control, data editors, high DPI support, map control, navigation UI, high DPI support, accordion control, dialogs, docking UI, and .NET core 2.0.
Web controls features cardview control, chart control, editors, gridview control, image and data navigation, spreadsheet control, scheduler control, a client side API, Angular components, data grid and tree list, and data visualization.
The enterprise and server tools have been updated with reporting, web reporting, WinForms reporting, WPF dashboard viewer, web dashboard, WinForms dashboard, modern admin panel and localization support, a PDF document API, and word processing document API.
Other features included ASP.NET enhancements, security system improvements, WinForms UI updates, PostgreSQL, SQL data source, code formatting, code templates, code analysis and unit test runner.
According to the company, enhancements to WinForms, WPF, ASP.NET, and MVC, in addition to new products that utilize the power of next-generation platforms will enable developers to deliver the best capabilities to their end-users.
"We're excited to see DevExpress extend their offering with UI controls and libraries for .NET Core 2.0 development," said Shawn Nandi, senior director of cloud application development, data and AI product marketing at Microsoft. "By providing our mutual customers with easy transition options to .NET Core, Developer Express helps pave developers' way to faster app development and delivery cycles, and wider audience reach."
A complete list of features can be found here.