BMC has announced new capabilities for its Control-M solution. Control-M is the company's digital business automation platform. The new platform is designed to enable existing and new customers to build, deploy, and manage their business application workflows faster.
"In today's business environment, speed is the currency of digital business," said Gur Steif, president, digital business automation at BMC. "Companies are driving their digital business transformations while faced with the challenges of diverse infrastructure, disparate data, and accelerated applications. With our latest Control-M capabilities, organizations are able to take advantage of new technologies and innovate at the speed of digital business."
Loom Systems launches operational excellence playbook 
Loom Systems has announced the launch of the its new 6-part Playbook. This is designed to optimize the integration of AI into organizational IT structures. The Playbook will provide a roadmap that will help introduce AI into existing IT infrastructure.
"The biggest problem with new AI technology is failure to adopt and onboard it properly," said Gabby Menachem, CEO of Loom Systems. "With our new Playbook, we are rewriting the paradigm for adoption of AI technologies, creating a mental and organizational shift that allows companies to use and incorporate the technology efficiently and effectively."
Adobe updates Adobe XD CC solution
Adobe's latest update to its user experience design software is introducing a range of new features and improvements for UX designers and developers. Updates include Dropbox support for native XD file previews on mobile, web and desktop; and the ability to export designs from XD into third-party tools. The solution now works with Zeplin, Avocode, Sympli, ProtoPie, and Kite Compositor to better enhance its advanced animations. In addition, it improved the zoom performance of art boards so that there are no lags.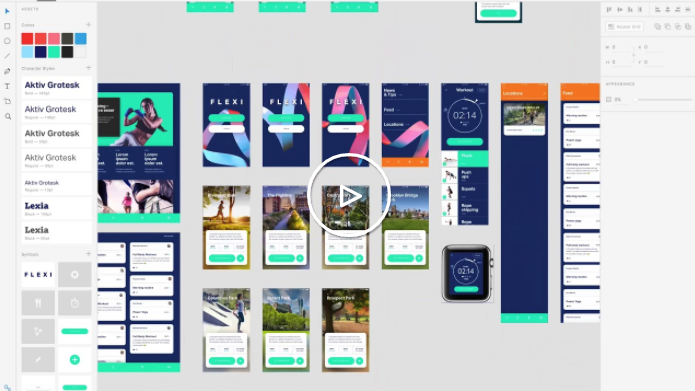 "Adobe XD's human-first design approach and integration with other Creative Cloud tools has made it incredibly easy and seamless to create scalable and cross-platform design systems," said Michael Wong, designer and founder of Mizko Media & the Designership, who created a gaming console UI kit for Adobe XD.
OMG completes UML 2 cert program
The Object Management Group (OMG) has announced the publication of the Advanced examination in the OMG Certified UML Professional 2 Certification Program. The exam is for IT architects and software developers at the highest level who make decisions on analysis, design, and development proposals and evaluate the results based on models drawn using the OMG's Unified Modeling Language. The Certification Program consists of three levels: Foundation, Intermediate, and Advanced.
"Experienced software architects shape and direct an organization's product, making certification of their knowledge and skills critical to project success," said Jon Siegel, OMG vice president of technology transfer and director of certification. "Our UML certification program is designed to test a practitioner's complete palette of UML knowledge and skills. We focus on functionality and usage rather than language details and aspects to test a candidate's ability to construct and interpret model diagrams."
Facebook Secures the Internet
Facebook has announced its $1 million in defense research grant is now open. The company announced the grant at the Black Hat USA conference in July. According to the company, it is becoming extremely important to secure the Internet now that more users are collaborating and sharing information online.  
Facebook is asking applicants for a two-page paper on how a grant would help them make a real impact in securing the Internet. The main focus areas will be abuse detection and reporting, anti-phishing, post password authentication, privacy preserving technologies, security for users in emerging markets, and user safety. Proposals are due by March 30th and winner will be announced on June 1st at Black Hat USA 2018 in Las Vegas.