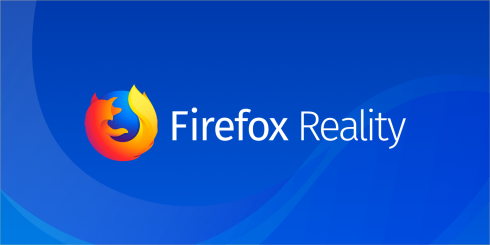 Mozilla has announced it is bringing virtual reality and augmented reality to Firefox. The company revealed it is building Firebox Reality, a new browser that will be built from the ground up to work with VR and AR headsets. The platform will be independent and work on a number of different devices, making it the first cross-platform browser for mixed reality, Mozilla said.
It will incorporate aspects from Firefox Quantum, which was released last year as a reimagined browser designed for speed.
"The future of mixed reality is about delivering experiences, not about building applications.  There shouldn't be friction moving from one experience to another. Firefox was the first browser to implement WebVR – an open standard for sharing and enjoying virtual reality content through a web URL. This lays the groundwork for creating and delivering immersive experiences using a method that is as simple as opening a web page," Sean White, vice president of technology strategy, wrote in a post.
Google replaces URL Shortener with Firebase Dynamic Links
Google has announced it is discontinuing its URL Shortener in favor of Firebase Dynamic Links (FDL). URL Shortener was first launched in 2009 to give users a way to share links and measure online traffic. According to Google, FDLs are smart URLs, allowing users to send links that will point to any location within iOS, Android, or a web app.
Users will be able to create new short links through the goo.gl console until April 13, 2018. Users with existing goo.gl links will still be able to use all features of the goo.gl console for one year, ending March 30, 2019. Links that were already created with the URL Shortener will continue to be redirected to their intended location even after this date. "URL Shortener has been a great tool that we're proud to have built. As we look towards the future, we're excited about the possibilities of Firebase Dynamic Links, particularly when it comes to dynamic platform detection and links that survive the app installation process," Michael Hermanto, software engineer for Firebase, wrote in a post.
Microsoft Professional Program adds two new tracks
The Microsoft Professional Program (MPP) will be adding two new tracks for Artificial Intelligence and Entry Level Software Development. These tracks will provide students will job-ready skills in these areas.
The Artificial Intelligence track is the same program that Microsoft employees use to learn AI. It was born out of the need to has a separate AI track in addition of the Data Science track. Topics that will be covered in the course are manipulating data with Python, foundational math and statistics, principles of machine learning, deep learning neural networks, and applied AI techniques.
The Entry Level Software Development track will teach students the fundamentals of problem solving and programming in any language. According to Microsoft, one of the problems with entry-level software learning courses are that they are web-focused, and this track is designed to fix that.