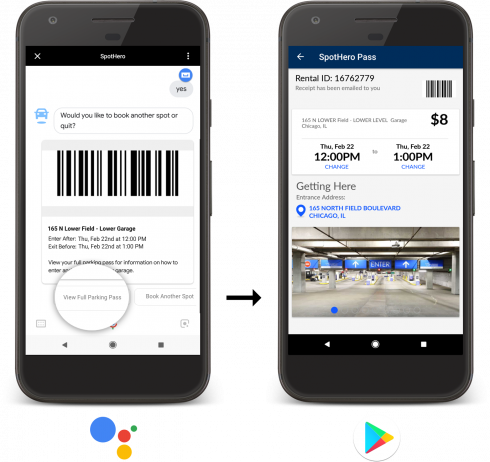 Google has announced it is updating its developer features for Actions on Google Assistant. New features include the addition of seven new languages, updates to build for global audiences, and new efforts to reach 95 percent of all eligible Android devices worldwide.
In addition, the company announced a new feature that lets developers deep link from Actions in Google Assistant for a specific Android app. Other new features include a new conversation helper for developers to understand location-based user queries and an improved user experience.
"Today's updates are part of our commitment to improving the platform for developers, and making the Google Assistant and Actions on Google more widely available around the globe." wrote Brad Abrams, product manager for Google, in a blog post.
LogiGear and Sauce Labs come together on open source Selenium
LogiGear has announced a new partnership with  Sauce Labs to increase the adoption of automated testing within enterprises. The partnership will tackle automation, continuous improvement and continuous delivery as well as bring LogiGear's test automation expertise to Selenium testing practices.  
"With today's incredible demands to release high-quality apps quickly, most organizations see tremendous value in the power of continuous testing that Sauce Labs delivers, but many lack the skills or resources to fully capitalize on it," said Manuel Ruiz, VP of customer success at Sauce Labs.  "By leveraging the highly specialized test automation expertise that partners like LogiGear bring to the market, our customers can greatly accelerate the pace of transformation and realize the full promise of continuous delivery and DevOps."
Zephyr Project announces OpenThread protocol
The Zephyr Project has announced that OpenThread has become the first Thread protocol implementation integrated with Zephyr real-time operating system (RTOS) for IoT.
"The OpenThread port fills a significant missing piece in the Zephyr Ecosystem," said Kate Stewart, senior director of strategic projects for The Linux Foundation. "This will make it easy and simple for engineers, developers, and makers to port existing applications to run on Thread."
CA Agile report: Organizations still struggling
CA Technologies have announced the results of a global study involving the full adoption of both agile and DevOps. The study found that organizations are struggling with the key challenges and missing out on the benefits of agile and DevOps. Key findings included 75 percent of respondents recognize the importance and success of Agile and DevOps; a showcase of Agility Masters, and culture challenges. 
"The pressure is on to make all parts of an organization as flexible as possible when responding to changing customer demands, user expectations, regulatory changes and – most important of all – market opportunities," said Ayman Sayed, president and chief product officer for CA Technologies. "Business leaders need to be aggressive and intentional about driving adoption of agile and DevOps within their organizations. The success of their business depends on it."
QA Systems updates Cantata unit testing tool
QA Systems have announced the upcoming release of Cantata version 8.0. Cantata is a unit and integration framework for C and C++. One of the new additions to this version is deployment switching as it provides flexibility for injecting errors and white-box testing. Also, the release includes a new Cantata Eclipse Perspective and Test Explorer as the test centric control hub. Other features include a code change analysis, and improvements to the user interface. 
"The latest GUI version is accessible and intuitive, making the testing process simpler for less experienced users, while enhancing the advanced functionality that our existing users expect," said Pierre-Henri Stanek, Cantata product manager.