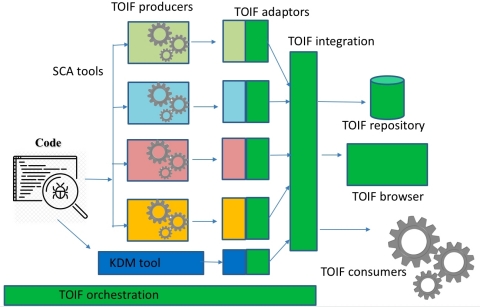 The Object Management Group has announced a Request for Comment for its Tools Output Integration Framework (TOIF). The purpose is to create a common format to show the findings of static code analysis tools. The RFC will be open until February 19 and comments can be made on the RFC comment form.
"TOIF will solve an important problem for developers by providing a uniform and vendor-neutral way of deploying and running multiple tools on the same code base, disseminating and interpreting the findings, since TOIF converts proprietary findings into a uniform, standards-based nomenclature," said OMG Systems Assurance Task Force member Nikolai Mansourov.
PowerShell Core 6.0 is released
PowerShell Core 6.0 has been released. The newest edition of PowerShell Core is cross-platform, open-source, and built for heterogeneous environments. PowerShell Core differs from PowerShell in that it is built on top of .NET Core instead of the .NET Framework. A full list of features can be found on its website.
OurCrowd launches a new fund focused on AI, deep-learning, and IoT
OurCrowd has announced the launch of Cognitiv. Cognitiv is a $100 million global fund that focuses on early-stage companies who leverage AI, deep-learning, IoT, robotics, and digital manufacturing.
"AI powered transformation is poised to disrupt and automate every sector in business –from healthcare and financial services to agriculture and manufacturing and could create the largest transfer of wealth in recorded history," said Avi Reichental, general partner at Cognitiv. "Having built successful businesses ourselves, we understand that what looked impossible just yesterday, is fast becoming tomorrow's reality. That is why we are seeding and scaling the very businesses that we believe are harnessing the power of cognitive technology to become tomorrow's category leaders."
Automotive Grade Linux goes global
A collaborative cross industry effort that develops an opening platform for the connected car has made a global announcement. Automotive Grade Linux (AGL) will now be available in all Toyota vehicles around the world. The organization also announced five new members which include Amazon Alexa, Green Hills Software, Kernkonzept, SanCloud and SYSGO.
"Toyota has been a strong proponent of open source for years, and we believe their adoption of an AGL-based infotainment system has set a precedent that other automakers will follow," said Dan Cauchy, executive director of Automotive Grade Linux at The Linux Foundation.
Optimizely Program Management now available
Optimizely, a company that designs customer experience optimization software for other companies, has made its program management available. The Optimizely Program Management will allow companies to build and scale their experimentation programs. This will result in a substantial increase of their experimentation programs, Optimizely explained.
Program Management features an integrated hub for collaboration, and an executive dashboards for insights into experimentation performance.
"The high-level view that we see through Optimizely's new Program Management dashboard provides us with invaluable insights into experimentation at the BBC and across our products," said Olivier Tatard, experimentationlead at the BBC, an Optimizely customer. "Program Management allows us to consolidate what were previously multiple tools into a single, slick environment, drastically improving the efficiency of our end-to-end workflow."