Facebook announced it has acquired Wit.ai, a voice-recognition and natural-language processing startup with technology akin to Apple's Siri.
The Wit.ai platform and natural-language processing API, which has a community of more than 6,000 developers, will remain free and open source, according to a Wit.ai blog post The acquisition could help draw more developers to Facebook, and enable speech-to-text features for Facebook's Messenger app similar to Siri and Google Now.
Android developers petition Google App Store policies
More than 2,200 people have signed a Change.org petition protesting Google policies toward Android apps and developer accounts.
According to the petition, Google has been improperly suspending Android apps and developer accounts perceived to be violating the Google Play Developer Distribution Agreement or the Google Play Developer Program Policies. Developers are only notified of these suspensions through "vague automated e-mails," the petition stated, with no instructions of what to change or fix in the app.
"In many cases, apps and accounts are suspended or removed completely without prior warning or notice, offering no recourse to fix inadvertent violations regardless of the problem's simplicity, severity, or developer's intentions to fully comply," wrote Android developer Rob Jackson, the petition's author. "Stop the automated suspensions. Help developers comply. Protect the Android ecosystem. Save the clock tower."
The petition demands a new form of one-on-one communication between Google and developers to help identify and resolve policy violations prior to automated and irreversible suspensions. The petition also states the desire for the creation of a team of Android Developer Advocates to communicate directly with developers regarding policy violations and required adjustments to their apps.
The full petition is available here.
Autodesk and Voxel8 announce Project Wire software for 3D-printed electronics
3D design software company Autodesk has partnered with 3D electronics printing company Voxel8 to develop Project Wire, a program for creating 3D-printed electronic devices.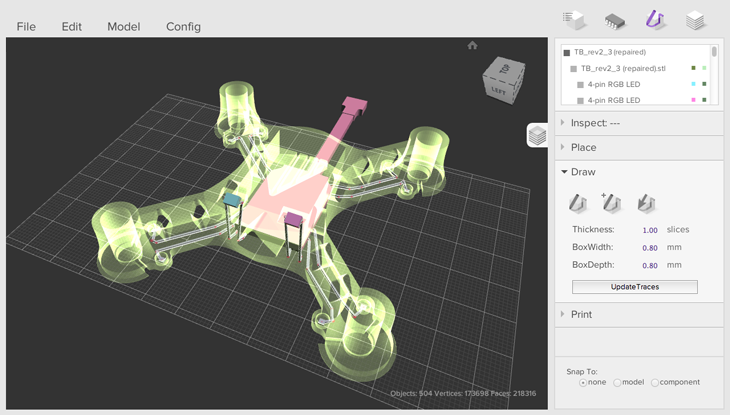 Project Wire provides a 3D component library, wire rendering, and printing capabilities for developers to create and print electronics. Combined with the Voxel8 developer kit and printer, the software enables fabrication of freeform three-dimensional circuits, giving developers the ability to place components, route 3D wires and output multi-material print data from within the interface.
Project Wire will be available with the Voxel8 printer "later in 2015," according to the Autodesk website.
QNX and LG to collaborate on automotive software
Connected embedded systems provider QNX and mobile electronics company LG have announced a partnership to build infotainment systems, digital instrument clusters and advanced driver-assistance systems for connected cars.
At the Consumer Electronics Show in Las Vegas, the companies detailed plans for LG's Vehicle Components Company to build connected car software utilizing QNX software, including the QNX CAR Platform for Infotainment, the QNX Neutrino Operating System, the QNX OS for Automotive Safety, the QNX Momentics Tool Suite and QNX Acoustics for Voice, a signal-processing solution for automotive voice communications.
The full press release of the announcement is available here.