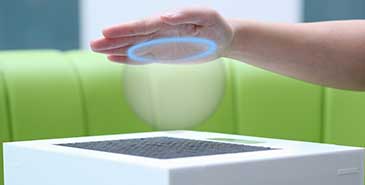 A team of computer scientists from the University of Bristol in the U.K. is working on new technology that uses ultrasound to develop a virtual 3D haptic shape that can be seen and touched. The research could change how 3D shapes are used and could help advance virtual reality innovation.
"Touchable holograms, immersive virtual reality that you can feel, and complex touchable controls in free space are all possible ways of using this system," said Ben Long, research assistant from the Bristol Interaction and Graphics group in the university's department of computer science.
Other use cases for the technology include the ability to explore a CT scan and understanding the shapes of artifacts in museums, according to Long.
More information is available here.
New UI framework designed for hybrid mobile apps
Mobile app development tool provider AppGyver has announced the launch of a new mobile app framework designed solely for building hybrid apps.
"Building HTML5 hybrid apps that look and perform like real native apps can be really hard. With Supersonic, we're making it as easy as traditional Web development," said Marko Lehtimaki, CEO of AppGyver.
According to the company, Supersonic extends standard HTML syntax to provide a set of native elements previously unavailable to hybrid app developers.
Organization webhooks for GitHub
GitHub has announced that its webhooks are now available at the organizational level, allowing organizations to send events for all of its GitHub repositories.
Webhooks allow GitHub users to notify external services when certain events such as repository creation, comments, updates, issues, and deployment occur.
"If you're extending GitHub into your internal systems, organization webhooks save you time by helping you configure integrations across multiple repositories in one place," wrote Jared Pace, developer at GitHub, on the company's blog. "The addition of organizational-level events, like team membership, open up new possibilities for integrators building applications that work with GitHub."
More details are available here.
Allen Foundation donates $5.7 million to advance AI research
The Paul G. Allen Family Foundation is awarding its Allen Distinguished Investigator grant to five groups of researchers working on one of three fundamental artificial intelligence areas: machine reading, diagram interpretation and reasoning, and spatial and temporal reasoning. The grant, which totals to US$5.7 million, will be awarded over the next three years.
"The Allen Distinguished Investigator program has become a platform for scientists and researchers to push the boundaries on the conventional and test the limits of how we think about our existence and the world as we know it," said Dune Ives, senior director of Vulcan Philanthropy and co-manager of The Paul G. Allen Family Foundation. "We are only beginning to grasp how deep intelligence works. We hope these grants serve as a valuable catalyst for one day making artificial intelligence a reality."