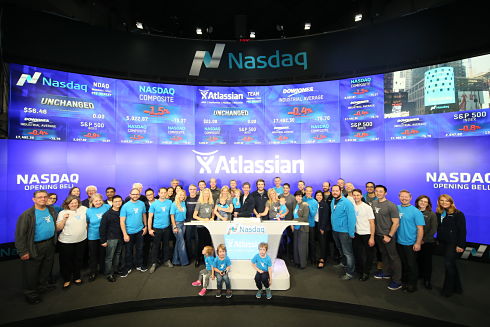 Atlassian has officially set its IPO at US$21 a share, raising $482 million, the New York Times reported. The price is above the previously reported expected range, which was at about $16.50 to $18.50 per share for $370 million. According to the Times, the IPO price values the company at $4.38 billion.
"Today is a big day for Atlassian. A few minutes ago, we became a publicly traded company. Mike [Cannon-Brookes, Atlassian cofounder and CEO] and I had the honor of ringing the NASDAQ opening bell," Scott Farquhar, cofounder and CEO of Atlassian, wrote in a blog post. "We chose the ticker symbol TEAM because our mission is to unleash the potential of every team. We believe all human advancement is driven by teamwork. And while it's common to celebrate the lone genius behind a breakthrough, it's a team that brings their ideas to life."
Cortana is officially here
There is another digital assistant out there, and her name is Cortana. It is available on select Android, Cyanogen OS and iPhone devices.
Cortana can help set location-based reminders on one device and have it appear on a smartphone when arriving at the location. This would make it easy to pick up holiday gifts and grocery shopping, according to the Windows blog. The Cortana app also comes with the same intelligence as Cortana on the PC, with the ability to look up information.
Parse releases new dashboard
Parse, the development platform owned by Facebook, has announced a redesign of its developer dashboard. It has been built from the ground up with tools like React and webpack to provide developers with a faster and seamless workflow.
"This release is also huge for us, the developers behind Parse. We've used it as an opportunity to rethink the ways we write and ship code, meaning we can bring you new features faster," Andrew Imm, software engineer on Parse at Facebook, wrote in a post.
Encrypted database becomes open sourced
ZeroDB, an end-to-end encrypted database, has released a Python implementation, and announced that it is open source. ZeroDB is designed to assist creating applications with privacy guarantees by enabling applications to query encrypted data.
Now that it is open source, the ZeroDB team is encouraging people to "try it, build it and break it to make it better," they wrote on their blog. In the future, a JavaScript client will be coming to ZeroDB.
Microsoft ending .NET Framework 4, 4.5, and 4.5.1 support
Microsoft announced that starting Jan. 12, the company will no longer provide security updates, hotfixes or technical support for .NET Framework 4, 4.5 and 4.5.1. Other frameworks will remain supported until the end of their established life cycle. According to Microsoft, this decision should help the company invest more resources and bring more improvements to the latest .NET Framework, currently at 4.6.1.