Google has launched Cloud Bigtable, a scalable, fully managed NoSQL database service available through the open-source Apache HBase API.
Google Cloud Bigtable is an enterprise-focused NoSQL service for high-volume data ingestion, analytics and data-heavy serving workloads. The service includes a natively integrated open-source interface for Hadoop imported to existing HBase clusters along with replicated storage and end-to-end data encryption. According to Google, the service features single-digit millisecond latency.
The NoSQL service is available as a beta release, and more information can be found on the Google Cloud Platform blog.
Progress and Telerik announce NativeScript 1.0.0, product updates
Telerik and its parent company Progress Software announced several product and open-source updates, including the 1.0.0 release of the NativeScript framework at the TelerikNEXT conference in Boston.
NativeScript 1.0.0 is shipping with code samples, resolution-specific views and new UI controls, along with improved debugging and Android app load times. The companies also announced they're working with Google on integrating NativeScript with Angular 2.
Telerik also announced Telerik Screen Builder, a new low-code development offering within Telerik AppBuilder, and revealed plans to open-source the JustDecompile engine for .NET assembly browsing and decompilation.
More information can be found here.
Social business application revenue expected to hit $37 billion by 2019
IT research firm 451 Research has released its new Market Monitor and Forecast study, projecting that social business application revenue will increase by more than 2.5x in the next five years to hit US$37 billion by 2019.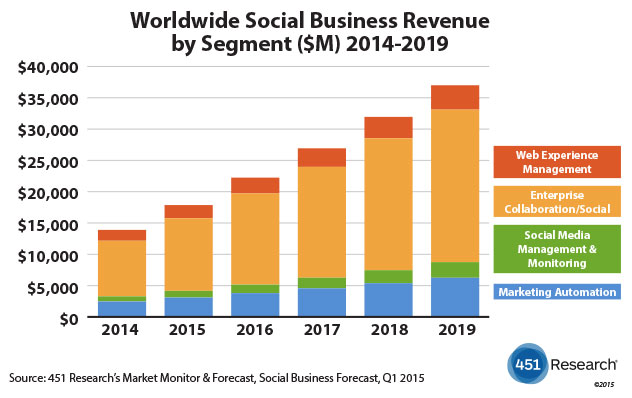 Broken down into four subcategories (marketing automation, social media monitoring and management, enterprise collaboration/social, and Web experience management), 451 Research believes end users and enterprises will continue to utilize social business applications.
The forecast is available here.
Google to reveal Android M at Google I/O
Google unofficially confirmed it will unveil the next version of Android, codenamed 'Android M' at Google I/O on May 28. Google published a reference to Android M in the conference schedule with a session on Android for Work, which was quickly removed.