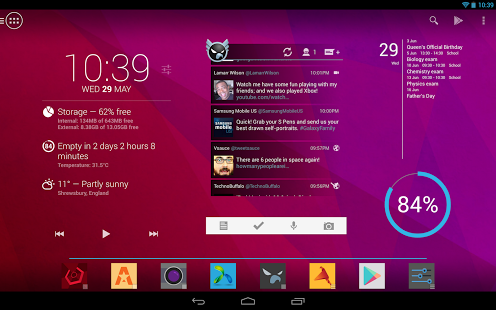 Android Action Launcher 3 is coming soon, and will be released as a paid upgrade.
Android developer Chris Lacy announced the impending release in a Google+ post, explaining that Google is charging for it because it is an entirely new, redesigned version of the app. According to Lacy, when version 3 is released, Action Launcher 2 will be re-released as a new app in the Play Store.
Action Launcher 3 cuts several features from its predecessor, Lacy explained, but adds features from the Google Now Launcher along with what he calls a headline feature that has never before been implemented in Android launcher apps. He is currently working on fixing the last bugs in Action Launcher 3, which will be available here upon release.
Aftermath of Sony hack attack continues
The Nov. 24 hack attack on Sony's computer systems is continuing to plague the company. The hackers, who call themselves the Guardians of Peace (GOP), have already leaked private employee information such as executive salaries and social security numbers, and has released films such as "Annie." But on a new website, the hackers are threatening employees and their families, according to Variety.
"Removing Sony Pictures on earth is a very tiny work for our group, which is a worldwide organization," the head of the GOP wrote in an e-mail obtained by Variety. "And what we have done so far is only a small part of our further plan. It's your false [sic] if you think this crisis will be over after some time."
The e-mail also goes on to say that if employees don't sign their name against the company, their families will be in danger. More information is available here.
In addition, BBC News reported that Sony's PlayStation store also suffered a hack attack this week from a group that calls themselves the Lizard Squad.
Accenture and Microsoft launch hybrid cloud platform
Accenture and Microsoft are rolling out the Accenture Hybrid Cloud Solution for Microsoft Azure, a new hybrid cloud platform designed to accelerate enterprise-wide adoption.
The platform combines the hyper-scale and hybrid capabilities connected to Windows Server with Hyper-V, System Center and Azure Pack running in customer data centers with the multi-platform environments and self-service application provisioning of Accenture's cloud platform. Other features include central dashboard controls and enterprise services through Avanade, a business technology solution and managed services provider jointly owned by Accenture and Microsoft.
More information about the Accenture Hybrid Cloud Solution for Microsoft Azure is available here.