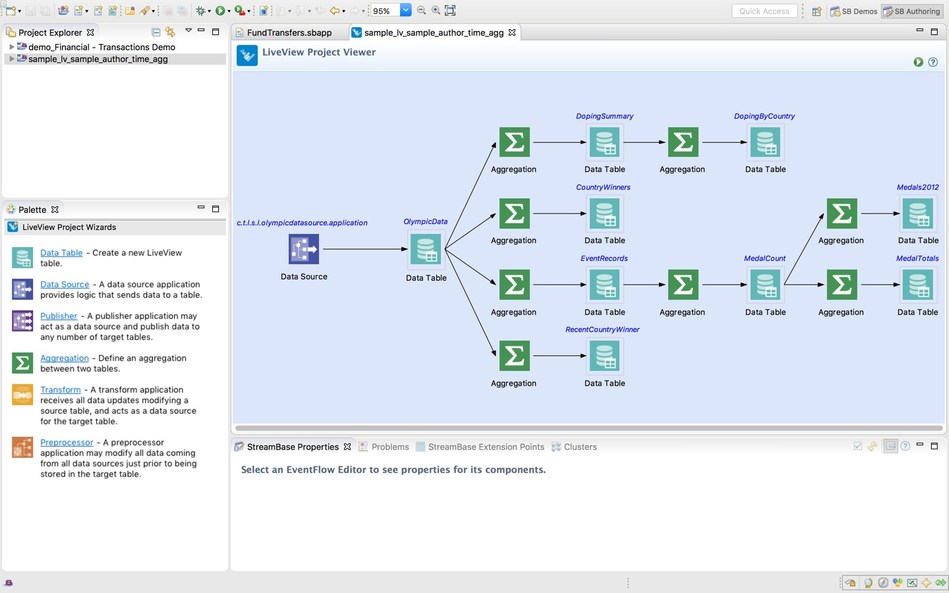 TIBCO announced the latest version of its streaming analytics solution TIBCO StreamBase 10. The release brings together predictive and streaming technologies with best practices to develop and scale applications, making it ideal for IoT use cases and other solutions that require intelligence at speed, according to the company.
StreamBase 10 features support for popular DevOps tools, support for predictive and machine-learning models, and an enhanced architecture for flexibility, availability and scalability.
"StreamBase 10 re-imagines our industry-leading streaming analytics platform," said Mark Palmer, senior vice president and general manager, analytics, TIBCO. "At TIBCO, we pride ourselves on delivering solutions that enable companies to become digitally smarter. The on-demand scalability of StreamBase 10 provides our customers with the ability to ask, answer, and act on insights in real time, augmenting their results."
Sauce Labs offers free training for Selenium and Appium
Sauce Labs wants to advance automation with new online training courses. The company announced it will be providing free training for open-source testing frameworks Selenium and Appium. The courses will include self-guided training for Appium 101 and 201 and Selenium 101 and 201. In addition, Selenium 301 will be available by the end of July.
"Sauce Labs firmly believes that automation is the best way for organizations to speed up application delivery," said Charles Ramsey, CEO of Sauce Labs. "So much so that we dedicated significant resources to train the world on the leading open source frameworks for testing web and mobile applications, Selenium and Appium, for free. We invite everyone, including students, to participate in this opportunity."
Cask releases Cask Data Application Platform 4.2
Cask is expanding support for Apache Spark in the latest release of its application platform. Cask Data Application (CDAP) 4.2 features the expanded support as well as improved user-centric self-service data ingestion and preparation capabilities. These new capabilities are designed to shorten time-to-value for data-driven apps on Apache Spark, according to the company.  
The Cask Market has also been updated for CDAP 4.2 with new pre-built assets and an expansion of reusable, ready-to-use Big Data solutions and components.
"With broad support for Spark and increasingly code-free, interactive data integration capabilities, this latest release of CDAP dramatically shortens the time to prepare and ingest data and to test, run and deploy Spark data pipelines on that data. This means simplified onboarding, better productivity and faster time to production for data lakes and data-driven applications on Spark and Hadoop," said Jonathan Gray, Cask founder and CEO.
DARPA selects Intel for AI, machine learning development
In order to leverage techniques and technologies like artificial intelligence and machine learning, DARPA, a U.S. Department of Defense agency, selected Intel to help develop a new computing platform for the DARPA project.
According to Intel, "Intel's Data Center Group, Platform Engineering Group and Intel Labs will work as one of the hardware architecture research performers for DARPA HIVE, with a joint research program between Intel and DARPA valued at more than $100 million during a four and a half year effort."
"By mid-2021, the goal of HIVE is to provide a 16-node demonstration platform showcasing 1,000x performance-per-watt improvement over today's best-in-class hardware and software for graph analytics workloads," said Dhiraj Mallick, vice president of the Data Center Group and general manager of the Innovation Pathfinding and Architecture Group at Intel. "Intel's interest and focus in the area may lead to earlier commercial products featuring components of this pathfinding technology much sooner."
Cedexis launches Application Delivery Platform
Cedexis opened a new chapter for software defined networking with the release of its new Application Delivery Platform. It combines a comprehensive view of Internet traffic from 14 billion real user measurements, it offers integrations with data sources, and it provides operations teams with the ability to manage and optimize their distributed infrastructures.
"Cloud platforms and content delivery networks provide a powerful set of infrastructure tools for developers to use, but historically getting the best use out of them has been extremely tricky," said Ryan Windham, Cedexis CEO. "While each vendor provides tools, ultimately the burden of delivery optimization lies with the individual operations team. The Cedexis ADP provides objective analyses and recommendations, spanning both the private and public elements of each organization's network, ensuring that customers are served at the highest level of quality, in the most cost-effective manner."
More information on the release can be found here.