Microsoft announced an array of products and updates during the keynote of its Ignite conference, including a second preview of Windows Server 2016 with support for Linux containers through Nano Server and Hyper-V features.
"What containers give the developer is the ability to create this portable application package they can run everywhere: this self-contained capability of scaling applications on demand for Windows Server," said Terry Myerson, Microsoft's corporate vice president of Windows.
Windows Server 2016 will also be integrated with Azure Service Fabric, and the Nano Server and Hyper-V support will continue running even if the compute cluster fabric service fails, according to Myerson. After an intro by the rapper Common to kick off the keynote, Microsoft CEO Satya Nadella announced public previews of Office 2016 and SQL Server 2016.
SQL Server 2016, set for release this summer, will feature new end-to-end data protection capabilities through its "Always Encrypted" feature, along with the new Stretch Database hybrid cloud feature for dynamically stretching transactional SQL Server data to Microsoft Azure.
Microsoft's new take on security
Nadella also introduced a security solution called Advanced Threat Analytics (ATA), a system for automatically analyzing, learning, and identifying normal and abnormal entity behavior from users, devices and other resources. As a new way to detect advanced security threats, Microsoft vice president Brad Anderson explained that ATA leverages behavioral analytics and machine learning to learn and adapt to cybersecurity threats.
A general preview of Advanced Threat Analytics is available today.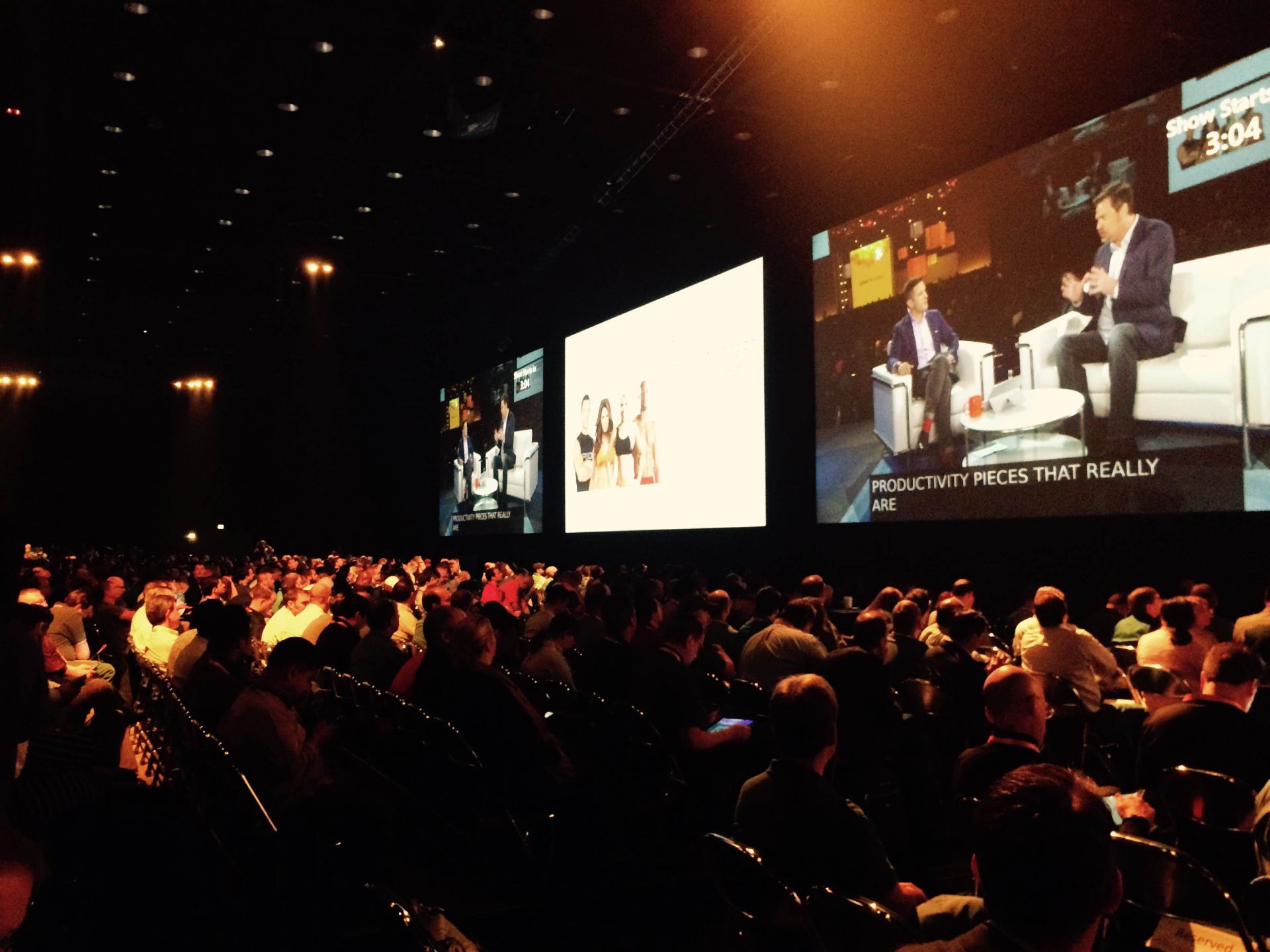 Anderson also demonstrated the different ways Windows 10 approaches data protection, particularly in the enterprise, including new data leakage security mechanisms to flag files that have been copied and pasted from their original source. These Windows Data Separation and Data Loss Prevention features, along with Windows 10 Device Guard, give organizations the ability to identify the source of data and define which apps have access to it.
Finally, during his demo highlighting the various capabilities of Windows 10, Microsoft vice president Joe Belfiore demonstrated the new biometric login features of Windows Hello and Passport working in tandem to log into Windows 10 devices after an eye scan that lasted seconds.
Belfiore's demo also touched on Windows 10's drag-and-drop functionality in multiple desktops, the Continuum feature for two-in-one devices, a look at the new Microsoft Edge browser, and updates to Cortana showing a new integration with Power BI for analyzing and answering questions about business data.
It all runs on Azure
As a cornerstone of Nadella's Mobile First, Cloud First strategy, the Ignite keynote demonstrated features, services and integrations across the board with Microsoft' Azure cloud platform.
The new Microsoft Azure Stack delivers Azure's IaaS and PaaS services into data centers, including integrations with SQL Server, SharePoint and other enterprise applications. Azure Stack extends software-defined infrastructure to secure data-center environments, with features such as shielded VMs and guarded hosts for securely segmenting and controlling data workloads.
Anderson debuted Azure RemoteApp as well, giving employees access to existing deployments in IaaS from any device without the data ever being stored on the device. Microsoft also announced the general availability of Cloud App Discovery, a SaaS app service for Azure Active Directory.
The Ignite keynote also rolled out a new Windows Update strategy. Myerson explained that Windows Update in Windows 10 will have distribution rings for more gradual software rollouts, which means no more massive monthly updates. Windows 10 will also feature a new Windows Update for Business strategy, free for Windows 10 Pro and Enterprise devices.