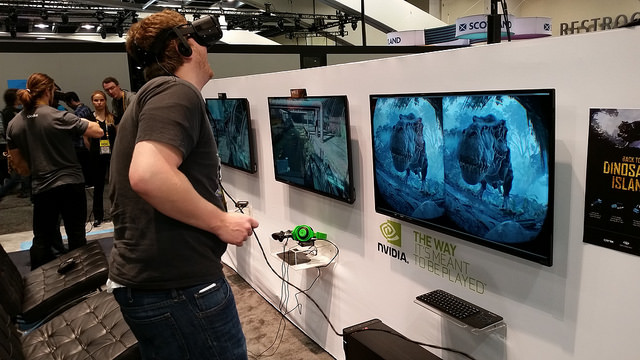 You could be forgiven for mistaking Game Developers Conference for a virtual reality development event: This year's conference offered more headsets and visors than any previous show. But despite the popularity of VR headsets and augmented reality applications, the real news of the show was the lowering of price barriers around the 3D engines that drive most games.
Tools in the video-game industry have never been a big business. In the days of the Nintendo Entertainment System and DOS, most game development tools were hand-coded and purpose-built. When Frédérick Raynal was making Alone in the Dark, an influential and revolutionary 3D survival horror game released in 1992, he had to build his own viewing software for quality assurance of 3D models because those tools did not exist then.
Over the past five years, however, game development tools have moved past their status as a niche industry and taken a step into the broader software development tools landscape. Most notable among these is Unity, a game development suite that now supports deployment to major consoles, mobile devices and desktops.
At the Game Developers Conference, Unity announced it was bringing feature parity between Unity 5's two versions. Those versions cost either nothing, or US$1,500 for one perpetual license. Previous versions had segmented deployment platform targets so that developers could not build their games for all platforms unless they paid for a license; that is no longer the case with Unity 5.
Unreal Engine 4, on the other hand, has gone free for users who earn less than $12,000 per year from games made with the engine. Valve Software, maker of Half-Life and Steam, announced at the show that their Source Engine 2 would be made free with no licenses required at all.
These engine moves served to level the playing field at GDC, where independent game developers have been gaining more and more attention over the years. And independent game developers have been a hot topic at the show since the release of successful indie game Minecraft.
Tools to be had
The tools around these engines, and the tools for building processes around a development cycle, were also on display at GDC. Perforce was on hand to demonstrate its new distributed version-control capabilities in its Helix release. GitHub was at the show with its products, and the company hosted a major party for Ludum Dare, a worldwide association of game developers who enjoy building games in 48-hour competitions called game jams.
Codice Software, on the other hand, announced the availability of an add-on for Unity 5 that would allow developers to access source code and assets stored within Plastic SCM without having to leave Unity's interface. Plastic SCM announced this add-on's availability at the show, along with a new repository capability known as Gluon. Gluon allows binary assets, such as 3D art and images, to be stored inside Plastic SCM and to be version-controlled, but it removes many of the constraints that are specific to source-code control. This frees artists from having to pull down huge file sets when grabbing a single image to edit from the Plastic SCM system.