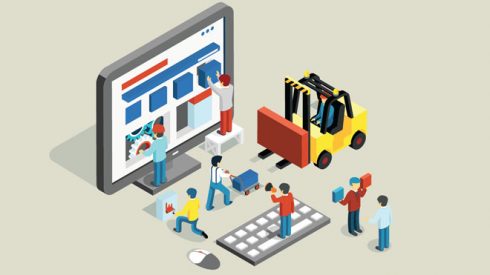 Gaining entry into organizations one development team at a time, Atlassian has managed to create a vibrant ecosystem of software tools that has become among the most popular in the developer arsenal.
And it's no accident. By lowering the barrier to entry for its tools, Atlassian has gained a broad developer following. And partners have jumped on board to extend and enhance the functionality of Atlassian's platform.
"What we want to accomplish is to enable our customers, vendors and partners to do what we call 'custom fit' of Atlassian products," said Max Mancini, head of ecosystem at Atlassian. "And so, we're focused on what do we to enable customers to custom-fit, and they do that through either developing themselves, getting things from a marketplace, or working with a solution partner – a more traditional engagement to build custom capabilities and roll them out."
Perhaps the most popular of Atlassian tools is Jira, the issue-tracking software used to find defects in applications. "Jira is something the developer world is very familiar with and had been using," Mancini continued, "and that was probably quite fortunate for us from an ecosystem perspective; there's nothing better than having a tool in the hands of developers who think, 'Hey I can make this better by adding this capability.' So, the ecosystem certainly evolved and accelerated as a result of having the right user base if you will, as developers are our users, so that solves a lot of the problem of figuring out what types of things you want to build."
Mancini went on to say that the foundation of the ecosystem is people wanting to extend the capabilities. "So if you look at the marketplace today, we have over 250 million dollars in sales. I like to express it in terms of customer value. It's not about the sales; the reality is our customers have spent 250 million dollars on apps in the marketplace, so they're getting that value. All of those are extending the capability — everything from test management, integration and automation to timesheet management to workflow automation to reporting," he said. "All of those have apps that are sold in the marketplace."
Related content: How does your tooling expand and enhance the Atlassian ecosystem?
One vendor that sells in the marketplace is TechExcel. Jason Hammon, director of product management, said the ease of acquisition certainly is how it started. "For individual teams within a larger organization, Atlassian made it extremely easy to have a team download it and use it internally at a very low price point," Hammon said. "They were certainly cutting edge in the way they approached the distribution of their tool, which lead to explosive growth, with Jira in particular."
Nicole Bryan, vice president of product as Tasktop, said her company integrates Jira to 57 other systems. "We live and breathe what we call the connected value stream," she said. "Developers love Jira. The people above them say 'we need visibility and traceability throughout the organization.' They approach software development as the connected value stream, so executive IT is getting more involved."
Atlassian's Mancini said the company is looking to drive the Atlassian marketplace with three important parts to it. "The first part is of course you need a good platform and you need to enable developers to build on that platform. I can do that certainly by allowing deep integrations, having extensive APIs and good tools to understand how to use those APIs.
"The second thing is, and this is where people fall short in a lot of ecosystems and development communities that are out there, is you have to give them access to opportunity," he continued. "There's a reason that companies flocked to the AppStore with the iPhone because they saw the growth and the opportunity. That opportunity is very difficult to penetrate now, obviously, because there's so much noise. We do the same thing from an Atlassian perspective, giving access to 100,000 enterprise customers to be able to sell to the marketplace. The reason this matters is not just the fact that you have customers there, and you're building something to integrate with them; the reality is a small company or even a medium-sized company that wants to sell into 100,000 enterprise customers can't go set up those relationships independently. It's too hard to scale to that. If they try to scale to that, they're probably not spending their time building great products.
"The last piece that's super important to having a program is, does the program support you being successful? I have a whole marketing team that is focused on making sure that our customers know that these solutions exist for them; that these apps are out there for them," Mancini went on. "We want to match customer need with apps in the marketplace. It's a win-win-win. The customer wins, they solve a problem. The vendor wins, they made a sale. We win, because we get a ride share off the sale and our customers are happy. It's really a great environment to drive that kind of success."
Nick Menere is co-founder of a company called CodeBarrel, which offers add-ons to the Atlassian ecosystem. He noted everyone working at CodeBarrel is a former Atlassian employee, so they had a deep understanding of how Atlassian partners to bring more robust solutions to market. "We're developers by trade, so we were weak in the areas of marketing and sales," he said. "We created a half-dozen or dozen things in the marketplace. The first add-on was a failure. The next one, Automation for Jira, really caught fire, with 12,000 customers in 18 months. If you understand the model, you can leverage it. The key is a low barrier, a low price. At a higher price, we couldn't leverage [Atlassian's bottom-up] model. To do that, we have a free version."
The idea of getting software into enterprise organizations through development teams has made Atlassian successful.  TechExcel's Hammon noted that this approach was a shift for the task and big-tracking side. "It allowed them to get a lot of individual teams in larger enterprises, where Rational or HP or some of the larger players in that space, Microsoft … were going for a more centralized approach across the enterprise, where, you know, Atlassian essentially accomplished the same thing, team by team."
TechExcel integrates its quality management solution with Jira, giving multiple QA teams a tool that is very much their own but can seamlessly communicate with developers as well.
Aside from issue tracking, other areas are presenting opportunities for the ecosystem as well. Among those are SaaS applications in the cloud, and IT service management. Mancini said, "Our SaaS integrations, with things like New Relic, and Datadog and Mercato, people like AppDynamics and Dynatrace.. all of these have capabilities, whether they're ITSM capabilities or DevOps capabilities or design capabilities, that enterprises are using but want to integrate into their workflows. Whether they want to integrate them into a support workflow, or a development workflow or a business workflow, they see integration points with our products."
Atlassian's core products
Jira Software:
Jira is for team planning and project management
Jira Software is the #1 software development tool used by agile teams
Easily integrated with the tools you already use with 1300+ Marketplace apps
Confluence:
Confluence is for team content creation and sharing
Increases transparency and makes it easier for teams to work together by providing tools that make content creation and organization simple
Teams can extend Confluence with 700+ apps, a rich set of APIs and integration with other popular services
Bitbucket:
Bitbucket is for team code sharing and management
Bitbucket supports 900,000+ teams and 5 million developers
Jira service desk:
Jira Service Desk is for tracking and managing internal services and support requests
Easily adapts to customers' needs, with set-up time and pricing at a fraction of traditional service management software
Jira Service Desk is the fastest growing product in Atlassian history
Trello:
Trello is the visual collaboration tool that creates a shared perspective on any project, acquired in January 2017
Trusted by over 25 million users, Trello's boards, lists and cards enable you to organize and prioritize your personal and work life in a fun, flexible and rewarding way
Stride:
Stride is the latest addition to Atlassian's portfolio, built from the ground up and launched in September 2017
Complete communication solution with best-in-class team messaging, audio and video conferencing, and collaboration tools
Related content: A guide to Atlassian's ecosystem