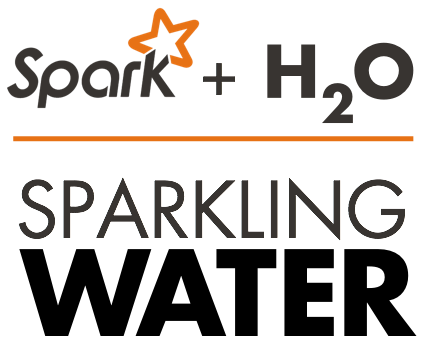 Today, H2O.ai announced the availability of Sparkling Water 2.0, an API for Apache Spark with new features and functionality. Sparkling Water now includes the ability to interface with Apache Spark, MLlib and Scala to give Spark user's more visual capabilities.
Sparkling Water 2.0 builds off of Sparkling Water, which was designed to give its users APIs, RDDs and multi-tenant context, as well as machine learning algorithms. Sparkling Water also allows enterprises to use H2O algorithms with MLlib algorithms on Apache Spark.
"Enterprises are looking to take advantage of a variety of machine learning algorithms to address an increasingly complex set of use cases when determining how to best serve their customers," said Matt Aslett, research director of data platforms and analytics at 451 Research. "Sparkling Water is likely to be attractive to H2O and Spark users alike, enabling them to mix and match algorithms as required."
Other new features and improvements include the ability to run Apache Spark and Scala through H2O's Flow UI, support for the Apache Zeppelin notebook, visual intelligence for Apache Spark, and real-time machine learning for data products using Spark Streaming and H2O.
H2O.ai recently built a team of data visualization experts who focus on AI and machine learning algorithms. The team's progress will come to Apache Spark via Sparkling Water, which gives users an easy way to understand their visualizations of algorithmic results.
GitHub provides access to more open-source data
In collaboration with Google, GitHub is expanding on its archive with the addition of BigQuery tables. With this data, users will now be able to get more insight into how people build software through GitHub, which packages are most commonly used, and which repositories have the most contributors.
"Data gives us insight into how people build software, and the activities of open-source communities on GitHub represent one of the richest datasets ever created of people working together at scale," wrote Arfon Smith, program manager for open-source data at GitHub, in a blog post.
Google to deprecate Google Feed API
Google has announced it is ending support for the Google Feed API. According to the company, over time the interest in the API has decreased, and it is running on a two-generation-old API infrastructure.
Google will continue to operate the API until Sept. 29 as a courtesy to developers. After that time, the company will cease operations.
"Google appreciates how important APIs and developer trust are, and we do not take decisions like this one lightly," wrote Dan Ciruli, product manager for the Google Cloud Platform team, in a blog post. "We remain committed to providing great services and being open and communicative about their statuses."
EMEA developers concerned with cyberterrorism
According to Evans Data's EMEA Development Survey, software developers in the region feel that cyberterrorism is the biggest threat, more so than cybertheft or cyberespionage.
The EMEA Development Survey is conducted twice, surveying 450 to 500 developers in the region. The EMEA region includes Europe, the Middle East and Africa, and 38.4% from this region felt cyberterrorism is the biggest threat. The threat of terrorism could result in the failure of organizations to implement a formal security strategy. About 30% of these developers said that their company has a security policy in place.
Developers also said that a big obstacle in establishing better security for their company is a lack of funding and adequate training.
The full survey can be viewed here.
DuckDuckGo partners with Yahoo
DuckDuckGo is partnering with Yahoo to give users the best search experience possible. In addition to the existing Yahoo technology that DuckDuckGo has been using, the latest partnership allows DuckDuckGo to get access to features that users have been requesting for years.
These features include date filters that let users filter results from by day, week and month. Another feature includes site links that help a user quickly get subsections of sites. All of this functionality is not fully rolled out yet, but DuckDuckGo wrote that they will be soon.
DuckDuckGo has been working with Yahoo to fully implement these new features in accordance with its privacy policy. To be transparent, the organization has written up these details on the technical implementation.