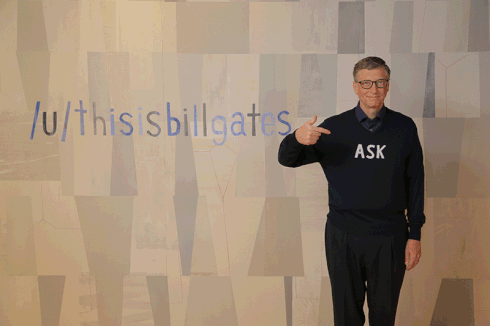 Bill Gates participated in his third Ask Me Anything on Reddit yesterday, and the Microsoft cofounder and philanthropist took the informal Q&A to another level.
Kicking off the AMA with the GIF above, Gates called Microsoft's newly debuted HoloLens technology "pretty amazing" and expressed his misgivings over the future of artificial intelligence, throwing support behind Elon Musk and the Future of Life Institute. The biggest news out of his responses, though, is that he's working on a mysterious project at Microsoft called the "Personal Agent."
"One project I am working on with Microsoft is the Personal Agent, which will remember everything and help you go back and find things and help you pick what things to pay attention to," Gates wrote. "The idea that you have to find applications and pick them, and they each are trying to tell you what is new is just not the efficient model—the agent will help solve this. It will work across all your devices."
Asked what personal computing will look like by 2045, Gates highlighted vision, speech understanding and translation as progress areas. He also suggested "mechanical robot tasks like picking fruit or moving a hospital patient will be solved." Gates also talked Bitcoin, chair jumping, regrets over never learning foreign languages, his Super Bowl pick, and his favorite type of BBQ sauce.
Gates signed off with a GIF-styled thank you to Redditors, and a parody video tribute to "Love Actually."
Do programmers leave fingerprints in their code?
Researchers say they can tell what programmers programmed depending on the style of their code. Scientists from the University of Maryland, the University of Göttingen, Drexel University, and Princeton University have developed code stylometry using machine learning and natural language processing techniques to find the author of code.
According to the researchers, code stylometry can be used for software forensics, authorship verification, copyright infringement disputes, and plagiarism detection.
More information is available here.