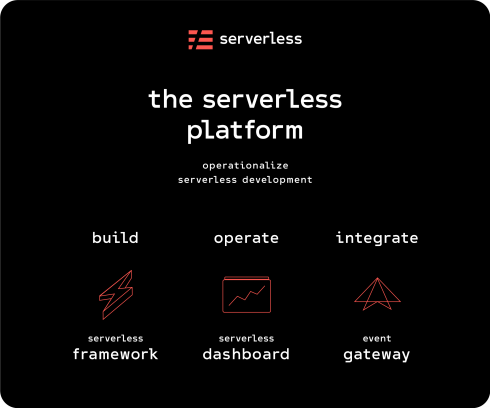 Serverless framework provider, Serverless, has launched the Serverless Platform Beta, which is a toolkit that provides teams with what they need in order to operationalize serverless development. The company also announced a $10 million Series A funding round, which they will use to expand active development on the Serverless Platform.
According to the company, the Serverless Framework solves several problems in the build phase, but now will focus on the operating and integrating phases as well.
"As the adoption of serverless has grown, so too have the needs of today's serverless teams. In addition to tooling that simplifies the development of serverless applications, these teams need tools to simplify operations across their teams and entire organization," the Austen Collins, founder and CEO of Serverless, wrote in a blog post. "They need logs, they need team collaboration, they need ways to integrate with legacy systems, and so much more. This is exactly what we built the Serverless Platform we're announcing today to do."
MapR Academy launches new AI and ML course
MapR has launched a new introductory course from MapR Academy on AI and machine learning. The course will provide instruction on how businesses can utilize AI and ML to improve operations through real-world use cases, introducing students to the basic concepts of ML and how machine learning algorithms work.
According to MapR the course is intended for developers just beginning to learn about machine learning and higher-level business decision makers.
"Machine learning, a trending topic in big data, is not fully understood. This course provides a foundation for anyone curious about ML/AI and how it works in practical applications," said Suzanne Ferry, vice president, global training and enablement for MapR. "Decision-makers, even those who already use big data, will benefit from learning more about common ML/AI business use cases."
Vulnerabilities discovered and patched in the Samsung SmartThings Hub
Threat intelligence group Cisco Talos has discovered several vulnerabilities within the firmware of the Samsung SmartThings Hub, which is a central hub that managers IoT devices. Cisco Talos has worked with Samsung to ensure that the issues have been resolved and ensured that a firmware update was released to all affected customers.
Cisco Talos had found 20 vulnerabilities, varying in the level of access an attacker would need in order to exploit them.
"While devices such as the SmartThings Hub are typically deployed to provide additional convenience and automation to users, special consideration must be made to ensure that they are configured securely, and updated when new firmware updates are made available by the manufacturer. Given that these devices can be deployed in many different scenarios, the impact of a successful attack against them could be severe. Talos recommends that these devices are updated as quickly as possible," Cisco Talos wrote in a post.