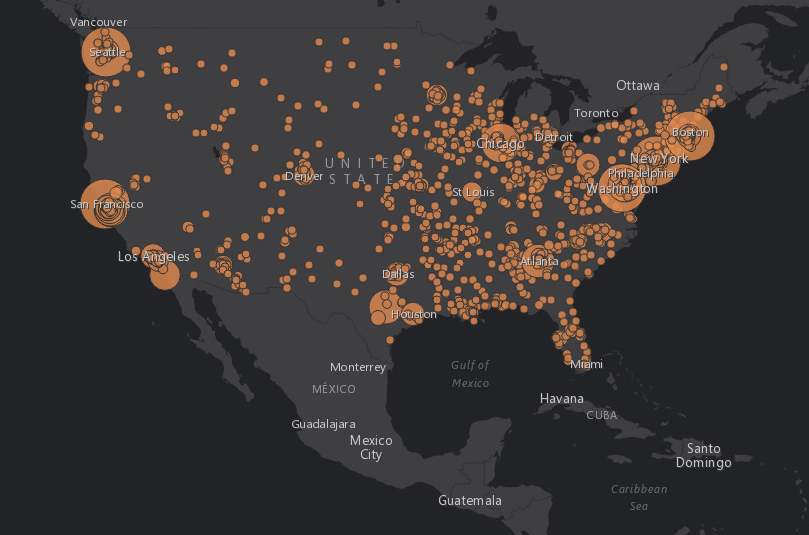 According to recent findings from the App Association, nearly a quarter-million job openings for software developers remain unfilled in the United States. Additionally, there are more software developer jobs than qualified people to fill them, which poses problems for startups and big companies looking to hire the right talent.
Currently, there are 223,054 jobs open in the U.S. In an interactive map, the App Association displayed every community in the country where companies are looking to hire developers. For example, in Chicago, 3,732 unfilled jobs exist, where San Francisco has 6,095 jobs unfilled.
The App Association also found that the demand for software developers has made it one of the highly paid jobs across America. The average national salary is US$100,000, and in many areas these jobs earn twice the average regional salary, according to the App Association.
To map is available here.
UC Berkeley's new center for artificial intelligence
UC Berkeley launched its new Center for Human-Compatible Artificial Intelligence this week, and its focus is to ensure that AI systems are benefiting humans.
The center will work on developing sophisticated AI systems of the future, making sure that AI systems are under human control and that people benefit from these machines.
The center has received a grant of US$5.5 million from the Open Philanthropy Project, as well as grants from Leverhulme Trust and the Future of Life Institute.
AI expert and UC Berkeley professor of electrical engineering and computer science Stuart Russell will lead the center. Joining him are computer scientists Pieter Abbeel and Anca Dragan, and cognitive scientist Tom Griffiths, from UC Berkeley; computer scientists Joseph Halpern and Bart Selman, from Cornell University; and AI experts Satinder Singh and Michael Wellman, from the University of Michigan.
"AI systems must remain under human control, with suitable constraints on behavior, despite capabilities that may eventually exceed our own," Russell said in a Berkeley News article. "This means we need cast-iron formal proofs, not just good intentions."
New Microsoft Dev Center options
Microsoft Dev Center has added more options for developers to monetize or promote their apps and games. These capabilities will help developers stay productive and streamline their app performance, the company said.
Some new capabilities include the ability to reduce the risk in an app release with gradual package rollout; streamlining app management with the Submission API and simplified device family targeting; and improved reports.
Also, there is a new dashboard view, and developers can enable their apps and games to be offered to Xbox One customers.
A full list of new capabilities can be found here.
Data shows developers still concerned about security
According to recently released data from Evans Data's Mobile Development Survey, developers still view security as a top concern for mobile devices. They also view biometric authentication as a promising technology, which could improve the security of mobile applications.
The survey covered mobile development concerns, security concerns and security technologies to show the level of confidence that developers place on each.
"Although biometric authentication isn't new technology, it's still considered the best form of authentication by mobile developers." said Janel Garvin, CEO of Evans Data. "Iris scans and facial recognition have more novelty, but fingerprint scans are easier for the user and thus appealing to the developer."
Other findings included 39% of developers feeling the application layer is the most important line of defense when securing a mobile app, and 28% think that the mobile OS is most important.